2013/December/25
Written by PAEK Chang-ryong, a defector reporter.
Since the purge of Jang Song-taek, former vice chairman of the National Defense Commission, North Korean state authorities have been continuing a massive campaign to familiarize "Jang's crime" to the public.
Via phone conversations with our reporting partners inside North Korea, ASIAPRESS North Korea Reporting Team obtained information confirming that, while the fear of the liquidation continues to spread within North Korean society, people also have strong concerns about the whereabouts of Jang's wife, Kim Kyong-hui. Kim is an ex-director of the Light Industry Department of the Korean Workers' Party(KWP), and the sister of the late General Secretary, Kim Jong-il.
Dissatisfaction is growing after authorities order people to write and submit 'confessions'.
On 18th December, ASIAPRESS's reporting team made the following phone conversation with our reporting partner living in the border town of the northern part of North Korea.
- What do the people think about the purge of Jang Song-taek and his close aides?
A reporting partner in North Korea (Partner):
People who do not have a sensible perspective said "All of Jang's close aides will be killed", but those who are more in tune with events disagree with this assessment. They don't believe what the government says at all.
- In relation to the purge of Jang, the government has ordered people to write and submit a 'composition of confession'. Are there any dissatisfactions with this order?(NOTE: 'The composition of confession' is a 'composition of reflection'(반영문) that ASIAPRESS has reported on in our previous article. It is a composition all North Korean citizens are ordered to write, on their own self-criticism referring to the 'crimes of Jang Song-taek'),
Partner: Do you think there is anybody willing to die by expressing their dissatisfaction against state policy? Everybody is following the order and unstintingly submitting the composition. During yesterday's second remembrance anniversary event (NOTE; The national remembrance of Kim Jong-il's death, held on 17th December), there were investigations into every recorded absence in each institution and workplace. The state ordered explanation for absences from the event. I am actually fed up with this. The order requires investigation into details of who and why a person was absent. It was not so serious before the execution of Jang. Compared to the past, restrictions are getting tighter and tighter.
- How are the higher ranking officials reacting?
Partner: All is quiet, it seems. They are watching each other with cautious eyes. Especially, they refrain from talking about 'family issues' (of Kim Jong-il and Kim Jong-un), Jang Song-taek and Kim Kyong-hui. Even though they are trying to avoid these topics, there are many rumors everywhere about them.
- Do the authorities hold frequent lectures or meetings for the people on the crime of Jang Song-taek?
Partner: It is more than frequent. Lectures are given by the person dispatched from the State Security Department (intelligence service- secret police). These are simply talks on the theme of "Jang Song-taek has deceived us".
- What do the ordinary people think about Kim Kyong-hui's absence from Kim Jong-il's remembrance event on 17th December?
Partner: I think she could not appear, how could she, who is in such a shameful situation, appear in front of the people? Here (North Korea), all people say like this: Even if she was actually able to appear in front of the people, how she could stand up in front of everyone. There are several sorts of rumors spreading around on whether Comrade Kim Kyong-hui is going to appear in front of the public in the future.
(NOTE: It seems that the ordinary people in North Korea think it is against a kind of human values that the wife allows the husband to be killed and then appears in front of the public.)
- What kind of stories or rumors are going around on the marital relationship between Jang Song-taek and Kim Kyong-hui?
Partner: I have heard from a military personnel who used be a sentry at Jang Song-taek's house that they (Jang Song-taek and Kim Kyong-hui) have been living apart in different houses. So there have been sentries standing at each of their houses.
----------------------------------------------
It has become clear that the North Korean state is obsessively-devoted to undertake massive campaigns impeaching Jang with the phrase "Jang was an atrocious fiend", "Jang Song-taek was human scum, who was worse than a dog" after the purge. People are now scared of the aftermath of the liquidations, and at the same time certain feelings of backlash are in the mind of the public.
It is predicted that a considerable number of people who are related to Jang Song-taek, such as his kin or groups affiliated with Jang, are targeted in the liquidation. Tracking the trend of public reaction in North Korea is key to following the changes of North Korean society.
### Rimjin-gang ------
-------------------------------------------
(* ASIAPRESS smuggles Chinese carrier mobile phones into North Korea that function in the border area of North Korea. Using these, our North Korean reporters and reporting partners communicate with us on the latest developments. )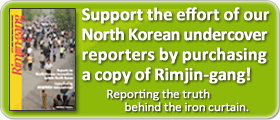 * Editor's notes on North Korean reporters
ALL REPORTS >>>
ARCHIVE(pdf) >>