2014/May/11
Written by PAEK Chang-ryong, a defector reporter
Participation in public marches is used to gauge citizens' loyalty to the leadership
To many foreigners, North Korea evokes images of never-ending military parades - countless lines of soldiers goose-stepping ardently in Pyongyang's Kim Il-sung Square, displaying absolute loyalty to their leader Kim Jong-un. However, often overlooked are the students and soldiers mobilized to join these marches, who suffer immensely during the course of their training. Defector reporter Paek Chang-ryong offers his sentiments on parade participation.
I have seen video footage of a military parade on North Korea's state-run website. The troops were composed of the Korean People's Army and Civil Armed (Paramilitary) Forces. The most impressive unit of the march was that of the middle school students, with their red pioneer scarves. The sight of students in their early teens carrying automatic rifles and grenades reminded me of my days in North Korea. It was painful for me to see these young students ordered to march alongside senior troops. I have witnessed many rigorous training sessions forcibly imposed on students in preparation for marches when I was in North Korea. Their assigned training period ranges from six months to one year in total. For these young students, it is nothing more than a burdensome formality to endure these grueling trainings.
The factions that represent the Civil Armed Forces are the Worker-Peasant Red Guards 로농적위대, and the Young Red Guards 붉은청년근위대. Most of the Civil Armed Forces parades are made up of university, academy, and middle school students.
When students are enlisted to become parade participants, this obligation becomes the foremost priority in their lives, and previous work or study commitments are left on the back-burner. They normally finish school lessons in the morning, then practice marching drills in the afternoon. Most students strain their knee joints at some point due to the excessive training sessions. Extra detention training, known as "punishment drills," awaits units which make too many errors during marching practice. As a flawless routine is considered to be the entire unit's responsibility, this punishment is imposed on everyone, even when just one person makes a mistake. Predictably, this often leads to severe resentment among marchers. This method of discipline is common in North Korea, where the peoples' socialization is oriented to the collective.
With this approach, parade and mass-game supervisors exploit human nature to mobilize the marchers under their command. This places intense pressure on each participant, inevitably leading to fights, and sometimes even to dissolution of friendships. It is extolled as an honor to be chosen to participate in a military parade, but in reality, it is a heavy physical and emotional burden for growing youths to bear.
Each parade participant's performance is evaluated as a measure of his or her loyalty to the leadership. It is the heavy politicization of march participation that distinguishes North Korea's parades and mass-games from those taking place in other countries. Disorganized marches are interpreted as signs of thought corruption and moral degeneration. Participants in military parades, conducted under the authority of the People's Army, are subject to particular scrutiny. The supervisors' commands are absolute orders to follow; it is prohibited for participants to visit other cities for the entire duration of the training period (up to a year), and during practice drills, marchers may not leave their positions under any circumstances, even to use the toilet.
Discipline is of the utmost importance to a group mentality, and no individual idea can survive in such an environment. The emphasis on collective responsibility reflects today's system of multi-layered social oppression in North Korea. This is how the state controls society, by utilizing communal surveillance of people against each other.
North Korean parade and mass-game displays may be overwhelming. But when you see them on the news, I want to remind you that there are many tears and suffering behind the young students' performances; they are not robots, and each of them have human feelings just like you.
### Rimjin-gang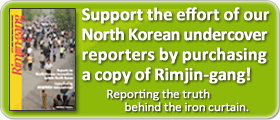 * Editor's notes on North Korean reporters
ALL REPORTS >>>
ARCHIVE(pdf) >>