The Daily Life of North Koreans
2014/April/16
Written by PAEK Chang-ryong, a defector reporter
Work wear gradually becoming students' uniform due to frequent calls for mobilized labor and military drills.
North Korean university students are obliged to wear a school uniform, this consists of a white shirt, necktie and suit for men and a two-piece suit or Korean traditional chima jeogori, for women. Recently, however, there are some changes occurring in the school uniform scene. While students try to wear their uniform as fashionably as possible, opportunities for wearing the uniform are decreasing as students are more frequently called on to participate in compulsory mobilized labor works.
In North Korea, university education is free of charge. Uniforms, although not included in this, are provided at cheap rate. Because of the continuing economic stagnation, it is becoming difficult to provide enough free textbooks for primary school pupils from the shrunken state budget. The situation is the same for university students, and many resort to seeking out cheaper clothes resembling the official uniform at the market.
Most university students are in their early twenties. In North Korea, as it is for fashion conscious youngsters all over the world, university students like to put their best foot forward whenever possible. Female students in particular, prefer to wear tight-fitting clothes, with skirts shortened to show off their body shape.
From time to time the education authorities take severe measures to prevent "moral corruption" through disciplinary crackdowns. This usually takes place in the morning, at the entrance gate when the students arrive at university. These inspections are especially prevalent around national cerebration days such as the birthdays of Kim Il-sung and Kim Jong-il, or when an important foreign delegation visits the city. In the morning of these special days, student commissars and teachers draw up in order at the gate of the university and inspect the appearance of each student in excruciating detail. Uniform and hair must be well groomed and everything meeting the regulated length. Female students are also checked to see if they are wearing too much makeup, another fashion item at these schools subject to censorship.
If he or she is questioned and marked by the inspections, the student will be considered a subject for self-criticism, sessions of self-criticism require that the student confess and criticize their "crime" in public. Depending on the seriousness of the "corruption" and the attitude of the student, punishment, such as extra labor works, will be forthcoming. Students thus do their best to avoid these inspections by going over the walls to surreptitiously enter the compound, alternatively they watch for a chance to enter the gate immediately following the morning inspection.
Despite frequent inspections by the school authorities, not all students are always well groomed. During the period of mobilized labor works, students spend all day in their work wear. Mobilized labor begins in the busy farming seasons, in March and in autumn every year. Students are tasked with helping farmers and workers at the farming collective and in the fields. Adding to these duties, there is mobilized participation for official state events, including six-months of obligatory military drilling in the paramilitary. There are also mobilized works for social projects, which students from each university must carry out. The result is that students spend more time clad in work wear than their ordinary school uniform.
In 2012, the North Korean state announced a project to build 100,000 apartments in Pyongyang under the name of "opening up the great gate of the strong and prosperous nation". To accomplish this reckless plan, all university classes in the country were cancelled for a year, and all students were deployed to help with the construction.
There are several types of work wear; the most common one is a khaki paramilitary outfit designated as battle ready wear. Some students wear a tracksuit.
Due to mobilized labor works occurring so frequently, and often announced without warning, many students keep the work wear at school, and have asked why their school doesn't designate the working wear as the uniform. It is not too much to say that for North Korean students, work wear is another school uniform.
***Rimjin-gang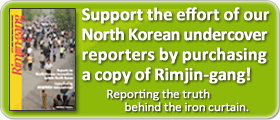 * Editor's notes on North Korean reporters
ALL REPORTS >>>
ARCHIVE(pdf) >>