The recent the Worker`s that ended May 9 caused strain and exhaustion for North Koreans. Some officials may now face severe punishment and ideological criticism at the Saenghwal Chonghwa (a meeting during which participants are required to criticize each other's shortcomings). Ordinary citizens are also reported to be concerned about possible repercussions following the Congress. ASIAPRESS spoke to one of our reporting partners in North Korea regarding the fallout. (Kang Ji-won)
Reporting partner 'A', in northern North Korea reported: "Participants at the Worker`s are now expected to take part in government organized 'evaluation meetings of the 70-day battle', along with an 'ideological struggle' for Party officials. Subsequently, officials are nervous at the possibility that they are facing demotion or dismissal."
The productivity enhancement movement, officially referred to as "70-day battle", started on February 24, before what was the first Worker's Party Congress in 36 years. All workplaces - factories, farms, and power plants - were mobilized in order to achieve the tasks set by the government.. Workers were required to work long hours and were sometimes forced to sleep in the workplace.
The '70-day battle' ended on May 2 and was immediately followed by a special state vigilance period. The government evaluation of the mobilization period has not yet started. It will be held when participants return to their home provinces from Pyongyang.
Harsh punishment ordered for officials celebrating birthday party
"Officials facing punishment for organizing a birthday party, drinking, and neglecting their duties. Officials in the crosshairs of the crackdown are facing expulsion from the Party and dismissal from their positions," ASIAPRESS reporting partner, 'A' said.
But another reporting partner, 'B' questioned the excessiveness of this punishment: "People are saying that the officials caught drinking will be dismissed. But it's excessive to punish 'drinking', even during the battle period."
'A' reporting partner explained that the National Security Agency (secret police) and Security Forces (police) were leading the investigation into officials drinking. He explained: "The Chief of the People's Committee in X city held a birthday party in his home during the 70-day battle. While they were singing and dancing the Inminban (a government neighborhood watch organization in North Korea) reported them and the National Security Agency arrived to investigate."
'Ideological struggle for ordinary people, too
'A' reporting partner reported: "During the 70-day battle , state monitored meetings went ahead, focusing on maintaining ideological order among ordinary citizens. For each meeting, a 1,000 won 'deposit' was exacted from participants. Those that didn't pay were targeted for criticism during the meetings. People are nervous, they say that more people didn't pay the 'deposit' than did and they are worried about the backlash."
A number of officials were punished for drinking or inappropriate behavior following the death of Kim Il-sung in 1994. People expect that a similar level of punishment will be imposed during the monitored meetings for the Worker`s party Congress and the 70-day battle.
Throughout 2016, ordinary North Koreans have endured various kinds of forced labor like 'the 70-day battle' and study meetings. These were in preparation of the Worker`s Party Congress. Yet another state demand is required of North Koreans, the so-called 'Chonghwa': 'monitored meeting'.
Kim Jong-un repeatedly emphasized the importance of creating a better life for the people in his recent Party address. But ordinary North Koreans continue to live a hardscrabble existence with little hope for real improvement in their living conditions.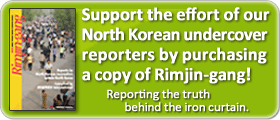 * Editor's notes on North Korean reporters
ARCHIVE(pdf) >>
DPRK MAP >>