◆Chinese Products have disappeared from the market
In North Korea, it's been ten months since Kim Jong-un began extreme quarantine measures such as blocking the border with China and excessive control of residents' behavior to prevent the spread of coronavirus. As a result, international trade with China has almost come to a halt, and the economy is stuck in a state of paralysis, causing stagnation in the flow and movement of people and goods. We did up-to-date research to find out what is going on in the North Korean economy. (Kang Ji-won, ISHIMARU Jiro)
In mid-February, shortly after the blockade of the Chinese border at the end of January, food, clothing, shoes, tableware, and general goods made in China began to disappear from the market in North Korea. In addition, the number of merchants and buyers in the market gradually decreased too.
According to reporting partners, "the number of visitors to the market is now about a half to a third of what it was before the COVID-19 outbreak."
This is not only because goods are no longer coming in from China, but also because many residents have less cash income and cannot afford to buy groceries.
The authorities emphasized "self-reliance" and "self-sufficiency" and issued a decree to produce domestically instead of relying on Chinese products.
What is going on inside the market, however?

◆Markets only selling agricultural and food products
A reporting partner living in Musan County, North Hamkyung Province, described the situation in the market in early December as follows.
"The market has completely turned into a farmers' market. Chinese industrial products (i.e. factory-made products other than food) and daily necessities have all but disappeared from the market. "
"Originally, these products came in from Rason and Chongjin, but even there, there is a shortage of Chinese products, so they can't make it to Musan. Only salt is available at the moment, but it used to cost 1 yuan (US$0.15) per kilogram, and now it is sold for 2.5 to 3 yuan. "
The situation is just about the same in Hyesan City, Ryanggang Province. According to research by our reporting partners, daily necessities such as toilet paper, sanitary products, (chemical) seasonings, soy sauce, tropical fruits (watermelon, mandarin oranges, bananas, etc.), cooking oil, candies, and confectionaries which are produced in China, disappeared from the market soon after the border blockade. Furthermore, they say clothing and shoes can only be seen occasionally in the market.
◆There is no shortage of food and food products
So, what about domestic products? According to research by our reporting partner at a market in Musan County in early December, domestic miso is sold at 4,800 won per kilogram (about US$0.85 at the prevailing rate). Soy sauce made in farming villages has been available since Chinese products disappeared and dehydrated soy sauce which the government supplies to the military, is said to be sold for 45,000 won (about US$8.17) per kilogram.
※The dehydrated soy sauce is solid at room temperature and, when dissolved in water, a kilogram makes about 10 liters.
Foodstuffs such as rice, corn, flour, and potatoes are readily available in markets throughout the country, so there are no shortages. In addition, as the authorities are wary of inflation, they have set maximum prices for food, thus enforcing price controls. These controls are so strict that violators have had their goods confiscated.
The price of foodstuffs on December 11 was 4,800 won (about US$0.85) per kilogram for white rice and 1,800 won (about US$0.32) per kilogram for corn. Russian flour has been available in large quantities since early Spring and Chinese rice has been available in large quantities since early summer. Presumably, this is food aid.
There is no shortage of domestically produced food products. Foods like bread and confectionery are available at the market. These are some of only a few items that have successfully replaced Chinese products, but there is one problem.
"Since it gets moldy and rotten quickly, nowadays there's a lot of trouble between customers and sellers. It's because preservatives and additives are no longer coming in from China, " said a reporting partner from Ryanggang Province.
※As the temperature drops, fuel is also a big problem for residents. In Ryanggang Province, where wood is relatively abundant, the cost of firewood for heating is 130 Chinese yuan (about US$19.38) per cubic meter. This is a lot of money for the residents whose cash income has decreased. With the weather worsening now, many households have to endure the cold without heating.
◆Even the big corporations' vehicles are not operating!
The most inconvenient thing for the residents is the disappearance of soap. Toothpaste and toothbrushes are made domestically at the Sinuiju cosmetics factory and are available in the market, but soap is the one product that is not available domestically at the moment. "We can no longer produce it domestically due to the shortage of raw materials, "said our reporting partner from Musan County.
Although it is not a daily commodity, what is becoming quite serious is the increasing number of vehicles that are inoperative. Most of the buses, trucks, and passenger cars running in North Korea are Chinese vehicles, and the parts for them are no longer coming in from China.
As for the situation at the Musan Mine, which is a large state-owned enterprise, our reporting partner tells us:
"The mine's vehicle manager says that 30 percent of the company's vehicles are out of action because they don't have parts to repair them. The auto accessories store in Rason doesn't have the parts in stock. The authorities are telling them to find something else to do, but they really don't know what to do. "
Markets in Ryanggang Province, North Hamkyung Province and North Pyongan Province are currently operating from 2pm to 5pm. Cities on the border with China, such as Hyesan, Musan County, Hoeryong and Sinuiju, are closed to traffic from 6pm to 7am the next day. This is to guard against night-time defections and smuggling.
※ ASIAPRESS contacts its reporting partners in North Korea through smuggled Chinese mobile phones.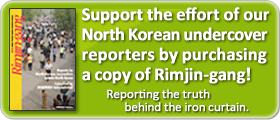 Editor's notes on North Korean reporters
ALL REPORTS >>>
ARCHIVE(pdf) >>
DPRK MAP >>