◆Employees of large trading firm peddling goods in villages
Declining export shave impacted on both the lives of company employees and the management. As major export items, like coal, metal, seafood, and the outsourcing of textiles are still under sanctions, companies are working hard to explore new items they can trade with, but progress seems negligible. The ASIAPRESS reporting partners delivered news from their locations.
"Items of export to China are limited to outsourced wigs, eyelashes, and caps. Chinese herbs are also purchased from the locals. (mid-April, Reporting Partner in Yanggang Province)
"The branch, or the subsidiary of powerful organizations like Kangsung Trading Company or Moran Company have almost shut up shop entirely. As the companies are supplying neither wages nor food, employees are peddling Chinese made home appliances, miscellaneous goods and blankets around suburban areas. It is said that they would be out of business if they couldn't pay the minimum of allocation, RMB1,500/month to the company." (mid-April, Reporting Partner in North Hamkyung Province)
Importing the necessary materials is getting harder because of the sharp drop in exports. For example, chemical fertilizers for sowing and rice planting are hard to find when they are needed most during planting season.
"In Yanggang Province, 'Chonji Company' used to exclusively import the fertilizer from China by bartering ore. But as such exports are now on a banned list, cash is the only mode of exchange for purchasing fertilizer. It's hard for companies to prepare enough cash. So, other trading companies have been ordered to import fertilizers, too." (mid-April, Reporting Partner in Yanggang Province)
Rumors are circulating among residents in the northern provinces of North Korea that the sudden visit to China by Kim Jong-un in March was to ask President Xi Jin ping for relief from the sanctions. (ISHIMARU Jiro)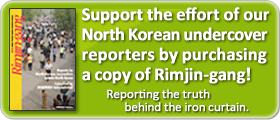 Editor's notes on North Korean reporters
ALL REPORTS >>>
ARCHIVE(pdf) >>
DPRK MAP >>