(All the names our staff in North Korea are noms de plume.)
Kim Dong-cheol
Kim is in his thirties and lives in the northern region of North Korea. He started his journalistic activities in 2009 while working as a company driver.



Lee Song-hui
Lee is in her forties and resides in the central part of the country. She has successfully carried out two video reports from inside Pyongyang.
Paek Hyang
Paek, a mother of two in her forties, lives in the northern part of North Korea. She began her work as a journalist in 2005 after meeting Ishimaru during a brief border crossing into China. She says she wants to show the outside world North Korean society from a woman's perspective.

Shim Ui-chun
Shim is a man in his thirties living in central North Korea. His 2008 report on the Hwanghae region became a global scoop.

Chang Jeong-gil
Chang, in his forties, lives in the central party of the country. He works as a laborer at a worksite involved in machinery. He enjoys photography and hopes to become a photojournalist.

Lee Jun
Lee Jun is in his thirties and resides in central North Korea. He used to be a laborer at a machine factory. In 1999 during the mass famine of the "March of Tribulation," he crossed the border into China with his family. While living as a vagrant in China, he ran into Ishimaru who was making a report at the time. It was then that he decided to return to North Korea as a journalist to show the world the true situation there. He has been recording video within the country since 2004.
Kae Myung-bin
Kae is currently an economic official in North Korea in his forties. He has worked for many years in operations at a large company and is a Rimjin-gang collaborator.

Ryu Kyung-won
Ryu, in his forties, previously worked at a trading organization in Pyongan Province. After serving in the military and graduating from Pyongyang Agricultural University, he worked for a while as an agricultural science researcher.
He then became a laborer for a foreign currency procurement company, where he was also a trade supervisor. He often went to China for this job.
In 2003 Ryu escaped from North Korea and currently resides in China where he does reporting.
PROFILES:
ASIAPRESS North Korea Reporting Team >>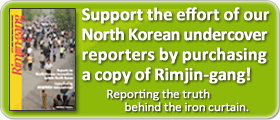 * Editor's notes on North Korean reporters
ALL REPORTS >>>
ARCHIVE(pdf) >>