The Making of Rimjin-gang <01>
The Making of Rimjin-gang The Making <01> <02> <03>
By the Editorial Staff

In producing the first-ever independent publication in the world reported directly by people of North Korea, our editing team has put a lot of thought into how to express to the world the lives and the thoughts of average North Korean citizens, along with the reality of their hardships.
Given the difficulty of entering North Korea ourselves in order to verify and confirm these reports, the question of how to ensure the reliability and credibility of the articles in Rimjin-gang to our readers has been the subject of ongoing discussion throughout this project.

After many suggestions, we decided to include a section on the making of Rimjingang in order to explain how one should read and understand the chapters presented here. We would also like to provide our readers as much information as we can about how our reporters manage to collect and report information in such a tightly regulated society, and about the people who are working on this project.
Furthermore, we would like to explain the process of how information brought out of North Korea is edited and published, and to provide information concerning safety and security issues during this process.
Reporters and Contributing Authors



The reporters and contributing authors can be divided into two separate groups. We call those in the first group "journalist reporters." These reporters are North Korean citizens and, through direct or indirect encounters with our editing team, they chose of their own volition to become involved with journalism. We consider them members of the Rimjin-gang team. Our editing team knows who these reporters are and where they come from.
We have had discussions with them for many years. We all share the following commitment.
-- In order to develop journalism in North Korea, the people of North Korea must stand at the center of this movement and face extremely dangerous circumstances.
It is up to the people of North Korea to decide for themselves what they want to report. As long as they have this will, our editing staff, standing on the outside, will do our best to support them.

Those in the second group are the "free contributors." The people who fall into this category are also from North Korea, but rather than conducting reporting activities on a regular basis, they send reports and information to us for Rimjingang? similar to a "citizen journalist" on the Web. Our editing team has high hopes that the number of these free contributors will grow in
the future. At this point, Kae Myung-bin (not his real name -- see the Profiles section for more information) is our sole official free contributor, but as Rimjin-gang's readership grows we hope that North Koreans will hear of its existence and more will volunteer their contributions.
For free contributors to come in contact with the editing team outside North Korea would be a dangerous and difficult task. Most would probably hesitate to tell us their true identities.
Under these circumstances, free contributors can send us information using pen names, through letters or email. In order for this to be possible, our contributors need to come from a small, select group of North Koreans ? those who have had the opportunity to leave North Korean territory.

However, as we publish more issues of this journal, we believe the number of people who wish to have their voices heard will increase. After going through a screening process, documents that have been submitted to us are posted not as articles but as contributed information. Every reporter and free contributor of Rimjin-gang uses an alias or a pen name. Their profiles also respect the wishes of these individuals to ensure their safety. We hope our readers will be understanding of our reasons for these measures.
01 >> 02 (The Material) >> 03 (The Safety of Reporters)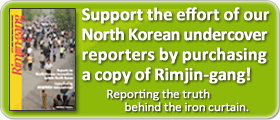 * Editor's notes on North Korean reporters
ALL REPORTS >>>
ARCHIVE(pdf) >>