ASIAPRESS International

ASIAPRESS started in Tokyo in 1987 as an independent network of journalists in Asia. Its mission is to raise and support independent journalists in Asian countries that have an underdeveloped media due to political or economic reasons, creating an outlet for independent reports not reliant on the mass media. The network includes altogether around thirty journalists from Japan, South Korea, China, the Philippines, Indonesia, Nepal, Pakistan, Thailand, and India.

The ASIAPRESS North Korea team began operations in 1998 based in Osaka. Besides ongoing reports along the China-North Korea border, in 2004 the team began cultivating journalists and creating reports from within North Korea itself. Up to now over one hundred hours of footage have been captured by North Koreans within their country. These images have been shown around the world, including in Japan, South Korea, the United Kingdom, the United States, Germany, and France.
------------------------------------------------------------


Rimjin-gang

Based on our successful reporting in North Korea, in 2007 ASIAPRESS began publishing a magazine entitled "News from Inside North Korea - Rimjin-gang" in Korean and Japanese. (After the 4th issue of the Korean edition was released in April 2009, the Seoul staff began publishing on its own and is no longer connected with ASIAPRESS.)

"Rimjin-gang" is the name of the river that crosses the demilitarized zone and flows into South Korea from the North. One of our North Korean journalists chose this name to symbolize sending the thoughts of the North Korean people to their brothers and sisters in the South.
Note1 : "Rimjin-gang" is the North Korean name for the Imjin River. We will be using this North Korean version throughout the book.
PROFILES :Rimjin-gang's North Korean Reporters >>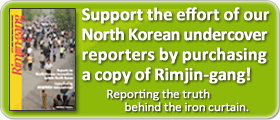 * Editor's notes on North Korean reporters
ALL REPORTS >>>
ARCHIVE(pdf) >>