◆Economy does not improve- despite talks
A South Korean delegation entered North Korea by road on July 20 in order to carry out joint inspections on a possible railway to connect the two countries. On April 27, Moon Jae-in and Kim Jong-un declared the Panmunjom Declaration, which called for linking the two countries through railways and roads. To accomplish this, a basic inspection is now underway.
The North Korean people are also interested in connecting the North and South by rail. Our partner in northern part of the North said:
"Despite the various talks that have been held following the inter-Korean summit meeting, the government has not been able to improve the lives of ordinary people. There are a lot of people who think that the railway could be a good thing."
Since the Panmunjom Declaration was made public through the North Korean state media, the North-South railway connection is not a "secret" issue. Therefore, people are aware that it is fine to talk about the issue in public places and so freely discuss the topic in markets and other public gatherings. Below is a summary of what our partner tells us is brought up in these public discussions.
◆Will rice and aid be transported?
The opinions of the citizens who are optimistic about the coming-and-going are as follows:
"If the railroad goes ahead, average North Koreans will be able to visit South Korea."
"If they say people cannot come and go, then why connect the railway? It's so people will be able to go to the South."
"Anyone who receives the trust of the government will be selected to take a tour of the south."
"Like the Kaesong Industrial Complex, it will bring much tourism and investment."
Meanwhile, there are some pessimistic views that can be heard as well. They are summarized thusly:
"If our people go to and from South Korea, as they will abandon socialism, the authority would never allow it"
"Even if the North-South railway is connected, people will not be allowed to freely use it and it will surely only be use for transporting goods. (South Korea) would send rice or other material support but also take North Korean minerals and sell them on at high prices."
One can sense that these citizens expect the economic benefits from the South to come through the connected train. (Kang Ji-won)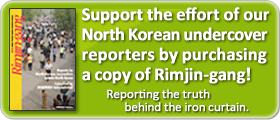 Editor's notes on North Korean reporters
ARCHIVE(pdf) >>
DPRK MAP >>