◆An incident underlied by the poverty faced by soldiers?
On March 8, a partner living in Yanggang Province reported that police had prepared for a shootout after an armed soldier staged a sit-in protest by breaking into the home of his commanding officer in the Sinheung neighborhood of Hyesan, Yanggang Province. (Kang Ji-won)
According to the reporting partner, the incident occured on February 24 at 10 a.m. when a soldier, carrying an AK automatic rifle, broke into the border patrol officer's house and forced out the officer's wife and child in order to stage a sit-in that lasted until 7 p.m.. The border patrol officer, whose house was broken into, was the 'duty-enforcing officer' of the company, responsible for overseeing ideological trends within the military.
The day of the soldier's protest was just after Kim Jong-un left for Vietnam to meet with President Trump and shortly before the important March 10 elections for the Supreme People's Assembly. Therefore, all riot police and security officers in the region were mobilized to respond to the incident.
The soldier, while serving under the officer at the border patrol garrison, had earlier been arrested on suspicion of smuggling before later being released and returned to his unit. Rumors have it that it was due to a grudge against the superior officer that punished him that he decided to storm into the officer's home.
The protest ended when the soldier was arrested while attempting to leave the officer's house in order to deposit his letter, a 20-page description of his grievances, with a resident of a neighboring apartment. In the end, the shootout that police had prepared for never happened. The authorities, nevertheless, are taking the case very seriously, and have dispatched additional personnel from the division of the Korean People's Army headquarters for ideological supervision. An investigation into what provoked the incident, meanwhile, is ongoing.
Since 2012, when Kim Jong Un took office, North Korea's borders have been extremely tightened. Because of this, the "income" that border guards acquired through bribes and by turning a blind eye to smuggling has plummeted. Now, with living conditions worsening, many soldiers are said to be suffering from malnutrition.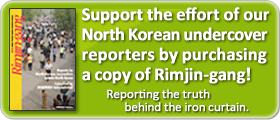 Editor's notes on North Korean reporters
ALL REPORTS >>>
ARCHIVE(pdf) >>
DPRK MAP >>