◆ Rumors of Quarantined Official Shot During Failed Escape
Though unrelated to smuggling, there are widespread rumors of executions in other cities.
A trade official who was placed in quarantine in Rason, North Hamkyung Province, after displaying cold-like symptoms following contact with a Chinese trader, was supposedly shot dead during his attempted escape from an isolation ward.
A reporting partner from Hoeryong City heard this news on February 7 from foreign currency exchange dealers visiting from nearby Rason City. Since then, related rumors have spread throughout N. Korea- with even South Korean media reporting on possible outbreaks.
As of February 16, the authenticity of separate reports on the various executions rumored to have taken place along the border is unknown. Reporting partners in Pyongyang, North Pyongan Province, Ryanggang Province, and North Hamkyung Province are all investigating the situations of local hospitals but, as yet, there have been no signs of further infection. Despite this, rumors of an outbreak continue to spread. (Kang Ji-won)
※ ASIAPRESS contacts reporting partners in North Korea through smuggled Chinese mobile phones.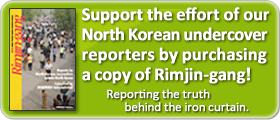 Editor's notes on North Korean reporters
ALL REPORTS >>>
ARCHIVE(pdf) >>
DPRK MAP >>