◆ Translation of the Border Guard's message
Urgent Notice
According to a notice recently received by the Chinese Border Guard, the People's Republic of Korea considers our country to be a source of the outbreak of the coronavirus and will therefore enforce the highest level of control at the border.
The military has complained that Chinese residents are causing pollution by dumping rubbish and sewage into the river. If threatened, the military has warned that they will react immediately and fire their weapons.
Please do not walk along the river so as to avoid any chance of misjudgement. According to recent news, North Korea is taking extreme measures, exterminating those who return from China or are infected with the virus. The North Koreans will not be any more considerate towards us.
Please be aware of North Korea's change in protocol, now characterized by ruthless violence. Make sure there are no meaningless sacrifices.
There are many who do not belong to this group chat, so please spread the word.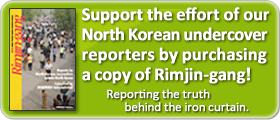 Editor's notes on North Korean reporters
ALL REPORTS >>>
ARCHIVE(pdf) >>
DPRK MAP >>