Many North Korean refugees live in hiding in the Chinese border city of Yanbian.
In August, 2002, LEE Jun, one of these refugees, came across the Japanese journalist ISHIMARU Jiro.
Lee spoke on camera for the first time, frankly describing his reasons for escaping North Korea.
————————
LEE: I fled across the border with my family, carrying my dying mother on my back. It was because of hunger. There was nothing to eat but weeds.
My children were just skin and bones.
When I saw that they couldn't even stand, I realized that if we were going to die anyway, we might as well die after a last spoonful of rice than to die hungry. So I brought them to China.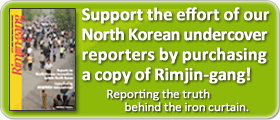 * Editor's notes on North Korean reporters
ALL REPORTS >>>
ARCHIVE(pdf) >>