North Korea Food Situation - 2
2011/September/10
Report by Kim Dong-cheol
An interview with "Tegori" merchants
In the previous article, through the interview with soldiers, I revealed that malnutrition is rampant in the military. This kind of ghastly setting in the military is a great shame for the government which is under the military-first policy. It seems that soldiers are ordered to be silent about food conditions, preferring it not to be known by many people.
However, since the beginning of this year, a food shortage in the military has come to be known widely among the society.
The government has begun to compel people to contribute rice for the military, beginning from this January.
In fact, a people's unit(*1) of my region received an official notice stating "each family should contribute a certain amount of rice for the military, at least 1 kilogram(=2.2 lb)".
(NOTE*1 - People's unit is the smallest administrative local unit, composed on a neighborhood basis)


This kind of direct collection campaign has never been seen in the past as far as I know. Because of these reasons, I am convinced that our country's People's Army has been facing a food shortage more serious than in past years. So I have decided to focus on the food conditions from various aspects. (*2)
[Note*2 - From this January to March, Rimjin-gang has received much information from North Korean inside-cooperators that people are compelled to submit rice for the military. For example, in Hyesan city, the government has compelled people to contribute 5 kilograms (=11 lb) of rice. At that time, it was not clear wether the collection is carried out in regular basis or just for one time]
In North Korea, there is a business called "Tegori".
Merchants go to farmers' villages and purchase rice, corn, fruit and vegetables. This will be sold to retail sellers in the market. That is to say, these are a primitive wholesale trader or a broker. A tagori merchant piles up a bunch of bags filled with food or goods on the back of a bicycle. It can weigh more than 80 kilograms(=176 lb) sometimes. They come and go between villages and towns.
One of the prominent characteristics of a tegori merchant is that they are a poor-class citizen who lives in the city. They don't have capital or a source of business except for their own bicycle. I have heard that there is a common place where these merchants come around to. I thought I could get some stories from them. Because they should know a lot about the food situation, I thought I could get valuable information from them regarding the government campaign of seizing rice for the military.
I have visited the middle of a hill where a path lies toward a city of South Pyongan Province. I found women who are tegori merchants sitting in a circle and having a break. Beside them, there were big bags. I walked toward them.
Kim: Hello. Is that a bag of corn?
Woman 1: No. There are soybeans inside.
Kim: How much was your purchase price per kilo?
Woman 1: 1,400won. (About 70 US cents at that time)
Kim: (talking to the other woman) Is that corn or soybean?
Woman 2: Corn.
Kim: How much was your purchase price per kilo?
Woman 2: 800won.
Kim: Then how much do you sell it for?
Woman 2: 850won.
Wholesale rice and corn gets small profits, usually they only get some tens of won. For example, for carrying 50 kilogram corn bags the whole day, they earn 2,500won. Their income earns only the price of 3 kilograms of corn. This is one of the reasons Tegori business is said to be an unprofitable job.
Another woman began to talk about the seizure campaigns of rice for the military. I did not lead them to talk about this issue, so it proves how people are interested in this matter.
Woman 1: I think I'm getting crazy because the government compels us to contribute rice for the military. I have heard that there was a crackdown operation at the bridge in Suncheon City. Inspectors confiscated all food from people who were carrying it with a bicycle at that time.(*3)
(Note*3 - It is illegal to export food from farmer's villages)
Woman 2: How much rice does the cooperative farm submit to the military?
Woman 3: The Unit-chief contributes 100 kilo, the team-chief 50 kilo. The ordinary farmer is 30 kilo.
Kim: Is that an assigned quota?
Woman 3: Right. And anyone who engages in merchandising business, it is 30 kilo unstintingly.
Woman 2: Ordinary worker is 30 kilo. Cadre is 500 kilo.
Kim: Who are cadres?
Woman 1: As far as I know, a management commissar chief (Cooperative farm's administrative representative person) is 1 ton.( =2,205 lb) And a team chief is 500 kilo. I have heard that if they cannot submit that quota, they would be expelled from the position.
Woman 3: I've heard that the crackdown at the bridge in Suncheon mainly targetted the food transporting and exporting.
Woman 1: I am deeply concerned about that seizure campaings. I'm really getting crazy.
Man 1: We are struggling to make a living by doing this kind of job. But they confiscate all the food from us under the name of the military seizure. Don't they care if we die of hunger?
Kim Dong-cheol
Kim is in his thirties and lives in the northern region of North Korea. He started his journalistic activities in 2009 while working as a company driver.
A lot of tegori merchants have their own grievances with food seizures. It became clear that the government narrows down their target to people from whom they can expect the contributions. The military organization has no food, but a certain amount of food is always circulated among cooperative farms and people in certain positions. One of the biggest allotted complexes is Jangmandang (market).
I decided to go to one of the public markets.
(Report by Kim Dong-cheol. 2011, July)
Other reporters' PROFILES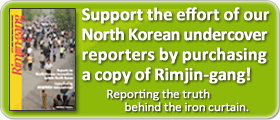 * Editor's notes on North Korean reporters
ARCHIVE(pdf) >>]