North Korea Food Situation - 3
2011/September/19
Report by Kim Dong-cheol
Food taken from the farmer's village goes to the market by the hands of Tegori merchants, as I wrote in the previous article. Then the food goes to retail sellers, before reaching the common people.
Rice and corn can be found in every market all over the country. This contrasts with the military institutions which struggle with chronic food shortage.
I visited the capital city, Pyongyang in the end of January to early February to cover stories. I saw plenty of food being sold in the market there.
Markets were crowded with many people in preparation for the lunar New Year.
A market is one of the best places that the government can collect food effectively. However, forcible collection triggers the people's anger. People are ready for themselves to fight against anything to protect their own source of life to survive in this country.
In the past, when the market tax(*1) was raised, I heard that there were people who openly criticized this tax introduction. This is completely unusual in our country.
(Note *1 - A tax which a merchant pays to the market administration office everyday)
So the first step which the government took was "incentive and encouragement of contribution of rice for the military".
As far as I know, it has never been seen that the government asks merchants to contribute food from the market. So it proves how serious is the critical food situation the military is facing. It makes sense that young cadet soldiers said more than half of their troop is malnourished in my interview. [Previous interview]
I began to walk around in the market. I came across the scene of a quarrel. It seemed to be between a merchant and the market administration officer. Both are women.
Market Administration Officer: Hey! Don't you know we are collecting rice for the military? You can't say no! You heard the first time, hah? Don't act stupid!
Woman merchant: No, I don't mean that....
Officer: I say stop playing the fool!
Woman: I have heard that each family contributes one kilogram in the farmer's village. But it is the first time for me to hear that the contribution campaign is imposed here [the market] also.
Officer: Don't lie to me. You think you can get a discount from me? No way! Everyone submits a fair contribution.
Woman: I am doing business here everyday. So why does it have to be today...
Officer: Did I tell you to contribute right now? It can be evening, or it doesn't have to be rice or corn. I said even soybean is fine. I made considerations for you. But now you say....
Woman: How I can make contributions. I don't have enough earnings.
Officer: Shut up! You don't have earnings? What a crap! I gave you a bargain, that 300won market tax for 250won. How can you say you can't afford to submit a contribution! I have spent the whole day today collecting rice contributions. Now I got to shout. It ends with such shit! Even old women submit contributions without any complaint. It's not food for myself... Those who don't submit always complain.
Finally the officer could collect the contribution. I talked to a woman who was witnessing this scene standing next to me. She seemed to be a merchant as well.
Kim: You are told to contribute rice for the military, right?
Woman 2: Right.
Kim: How much from each person?
Woman 2: 10 kilograms each.
Kim: Is that asked of every merchant?
You can't make business in the market if you don't submit the contribution?
Woman 2: That's why they try to collect inside the market place.
Merchants can't earn their living if they can't make business in the market. The government, who knows these circumstances, targets especially merchants in the market.
Contribute or die. This rules the market and our country.
(Report by Kim Dong-cheol. 2011, July)
Other reporters' PROFILES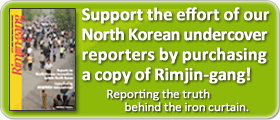 * Editor's notes on North Korean reporters
ALL REPORTS >>>
ARCHIVE(pdf) >>