In the spring of 2008, the Rimjin-gang editorial staff asked our North Korean reporters to cover the daily lives of the people, especially regarding the food situation.
While they were in the field doing that reporting, news spread around the globe that something catastrophic had happened to Kim Jongil.
There was no official announcement or confirmation, but the consensus of those reports was that neurological problems worsened sometime in mid- August, after which Kim underwent surgery or special treatment.
He then failed to attend the 60th anniversary memorial ceremony of the country's founding, thought to be the biggest national event of the year.
After hearing this, our reporters continued their interviews, risking their lives to create high-quality visual reports.
---------------------------------------
A Life In A Countryside -
Rimjin-gang <Page 258>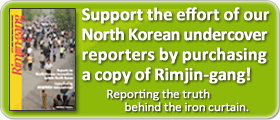 * Editor's notes on North Korean reporters
ALL REPORTS >>>
ARCHIVE(pdf) >>