Hyesan's lockdown was suddenly lifted on the evening of March 4, just 2 days after the authorities announced a 30-day lockdown, closing markets and prohibiting residents from leaving their homes. However, as of March 10, traffic was still prohibited from leaving the city.
Related Article Month-Long Lockdown Begins for Third Time in Hyesan as Residents Fear Further Hardship and Starvation
Why was Hyesan's lockdown- the third such lockdown in under 4 months, ended after just 2 days? The reason seems to be related to strong opposition from local residents. According to reporting partners living in Hyesan City, there were many complaints and protests immediately after the lockdown was announced at 15:00 on March 3. Reporting partners gave the following explanations:
"With the third lockdown, many people couldn't stand it any more, so they started to leave their homes instead of following restrictions and, at the entrance of an apartment building, there was even a scuffle with riot police who had been mobilized to control the situation."
"Many of the protesters were elderly. When one man with a chronic illness heard about the lockdown, he went outside and started screaming 'Kill me', drawing the attention of many people and causing riot police to be mobilized."
"An old man visited the neighborhood management office in Hyetan-dong and demanded, 'Lock down the city after providing us with food. If you don't, I will die here,' and the head of the office persuaded him to leave by offering an emergency supply of rice."
"The elderly are not criticising Kim Jong-un- they are complaining that the party officials in the provinces and cities are making false reports and are trying to starve people with a lockdown instead of properly reporting the true levels of destitution. It's not a direct criticism of the government."
After the lockdown, one reporting partner said that many people were not adhering to the curfew and ban on movement.
The reporting partner said, "I heard that, so far, in the last four days, more than 60 people have been detained by the police for leaving their homes. Everyone is saying that the residents' dissatisfaction and opposition is so strong that they must have caused the lockdown to be lifted."
Although the authorities had announced that the reason for the third lockdown of Hyesan was due to the arrest of a woman secretly returning from China across the Yalu River, the true motive for the lockdown is not clear. (Kang Ji-won)
※ASIAPRESS contacts its reporting partners in North Korea through smuggled Chinese mobile phones.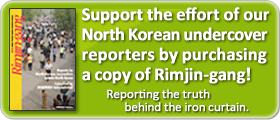 Editor's notes on North Korean reporters
ALL REPORTS >>>
ARCHIVE(pdf) >>
DPRK MAP >>