◆Deaths from Starvation and Disease During the Previous Lockdown
It has now been confirmed that the city of Hyesan in North Korea's Ryanggang Province was placed in lockdown on March 3. This is the third time that the city has been locked down, following a first lockdown last November and a second in January of this year.
According to the information provided by our reporting partners living in Hyesan City, on March 3, residents were informed of the lockdown at 15:00pm and it was implemented just 3 hours later at 18:00pm. The lockdown will last for one month and residents will be forbidden from leaving their homes.
Why was Hyesan City placed in lockdown three times? According to a reporting partner, it was not because of the outbreak of coronavirus. "I was informed that it was because smugglers from China had been caught," said the reporting partner. However, this information could not be confirmed.
"The second blockade was only just lifted on February 15. Some people cried when they heard that the market would be closed again. The market was crowded with panic-buyers," our reporting partner said.
According to another reporting partner living in Hyesan, for a while now there have been frequent lectures on the struggle to eradicate non-socialist and anti-socialist activities and, at a meeting of the anti-socialist censorship group officers on March 1, he was told that, "If there are people you suspect of being involved in non-socialist activities such as smuggling, or any other suspicious activities, such as selling methamphetamine or crossing the border into China, report them immediately." Residents were threatened that if anyone were caught, the city would be shut down again.
In the past two lockdowns, there have been deaths due to lack of access to food and medicine. This is the third time that the lockdown has been imposed, and the residents are sure to be suffering life-threatening hardship. (Kang Ji-won)
※ASIAPRESS contacts its reporting partners in North Korea through smuggled Chinese mobile phones.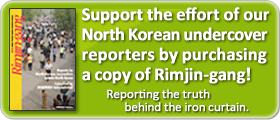 Editor's notes on North Korean reporters
ALL REPORTS >>>
ARCHIVE(pdf) >>
DPRK MAP >>