◆ Trade Resumption Dependent on Coronavirus in China
North Korea has begun to work toward the resumption of trade with China in March. The Chinese border was closed at the end of January last year to prevent the influx of coronavirus by severely restricting the flow of people and goods. But, in the midst of worsening shortages and economic paralysis, will Kim Jong-un's regime begin to ease its excessive anti-corruption measures? (Kang Ji-won / ISHIMARU Jiro)
According to a reporting partner in a city in North Hamgyong Province, on February 22, officials from the provincial trade bureau of Chongjin City visited the trade company and instructed it to start preparing for trade with China to resume in March.
According to the reporting partner, the instructions were as follows: "The priority for imports is agricultural materials. We have been told to get ready to import fertilizers, insecticides (pesticides), greenhouse plastic sheeting, parts of agricultural machinery and equipment."
A reporting partner from another city in North Hamgyong Province also informed us that "Word is going round that trade is expected to resume in Rason in March, and prices in the market for Chinese goods are falling."
Furthermore, several Chinese traders in Dandong, Liaoning Province, China, also stated in an interview with ASIAPRESS that "Although we are not sure if it will be in March or April, trade is expected to resume."
◆Not enough time to sow and plant rice.
Since coronavirus prevention became a top priority, North Korea's year-on-year trade with China fell by 80.7 percent in 2020 and is currently down about 90 percent from 2016, when economic sanctions were tightened. This is due to the major curtailment of imports of non-essential goods on the orders of Kim Jong-un as well as a sharp drop in foreign currency earnings.
Shortages of daily necessities, medicines, and production materials have worsened, and factory equipment and spare vehicle parts are not coming in from China, leaving the economy in a state of paralysis. Some of the poor have died of disease and hunger.
The main reason for the North Korean government's urgency to resume trade is that in March it must get ready to farm its staple crops of corn and rice. Fertilizer is indispensable. Under the slogans of "self-reliance" and "self-sufficiency," the Kim Jong-un regime has been focusing on domestic production of fertilizers, including the completion of a phosphorus fertilizer plant in Suncheon, South Pyongan Province, but it is unclear whether it is on track.
"The quality of domestically produced fertilizer is poor. Farmers say that domestic fertilizers made from human feces are inferior to processed compost. People who cultivate their own fields are looking for fertilizer made in China," said one of our reporting partners.
◆Resumption of trade depends on China's Coronavirus situation
If farmers are unable to obtain fertilizer and other farming materials for sowing and planting in the spring, it will have a great impact on the fall harvest. The Kim Jong-un regime would like to import from China at any cost. However, that depends on the coronavirus situation.
Only the Tumen River separates North Hamgyong Province in North Korea from Jilin Province in China. Since the beginning of this year, there have been signs of another coronavirus outbreak in China and, on January 24, the number of newly infected people in Jilin Province reached 67. However, the number of new infections since February 7 is zero, and the situation has been successfully contained for the time being. Liaoning Province, on the other side of Sinuiju, the largest trade gateway between the DPRK and China, has also been able to control the number of new cases.
It is highly likely that the North Korean government is planning to gradually resume the trade from its two major trading points in Sinuiju and Rason. However, if there is another outbreak of coronavirus on the Chinese side of the river, it will probably be postponed.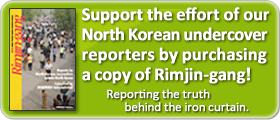 Editor's notes on North Korean reporters
ALL REPORTS >>>
ARCHIVE(pdf) >>
DPRK MAP >>