Sino-North Korean border report:
- Transportation of Iron Ore from North Korea Underway
2014/March/27
(This report first appeared in the Korean and Japanese edition of the ASIAPRESS North Korea report in September 2013. All the information is from that report.)
REPORTING PERIOD; July - August, 2013. Shenyang/China ; PARK Yong-min, ISHIMARU Jiro (Edit; NAM Jeong-hak. All photos taken by PARK Yong-min.)
Import of North Korean Iron-ore is picking up speed
In Nanpingzhen 南坪镇, Helong City 和龙市, Yanbian Korean Autonomous Prefecture, China, the construction of a railway, started in 2009, has been completed and is now fully operational. The railway was built for the transportation of iron ore mined from Musan mine, the largest iron mine mountain in North Korea. Ore is first taken by dump truck to the Chinese town of Nanpingzhen and, after being processed, it is transported to Helong City by rail. North Korean ore brought to Helong is designated for distribution throughout North-Eastern China.
The "He-Ping" Railway 和坪铁路 gets its name from the Chinese characters drawn from Helong and Nanpingzhen. The railway, located near the Sino-North Korean border, enables a larger amount of ore to transported at a lower cost. The station is a vital point in the trading infrastructure for China, importing ore mined from Musan mine, one of the largest iron ore productions in Asia, thought to have more than a gigaton of recoverable reserves.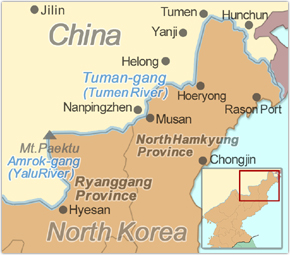 The station is comprised of three buildings (compounds). Dump trucks were parked in an orderly fashion nearby the station. The trucks are tasked with transporting the iron ore to Nanpingzhen station, from North Korea.
According to a local resident, operations began immediately following the completion of the railway.
While traveling in the area, the team passed more than forty dump trucks, one after the other, loaded w ith iron ore, returning from Musan mine. It shows that the import of iron ore from North Korea to China is big business.
North Korean authorities Jam Chinese mobile phone signals
While we were traveling along the border of the Tuman-gang (Tumen River), our Chinese carrier mobile phones often malfunctioned. This is due to radio jamming efforts made by the North Korean authorities. Their purpose in jamming these signals is to prevent the use of Chinese mobile phones by local North Koreans. In Nanpingzhen, in particular, the phone was completely disconnected. However, the signal improved in the suburbs of the town, and in the upper areas of Chongshanzhen the connection stabalized. Generally the closer we came to the upper stream areas of the Tuman-gang, the more malfunctions our phones suffered.
During the course of our reporting travel, the ASIAPRESS team witnessed that a new levee was under construction along the Tuman-gang, this spanned a long interval, reaching from Nanpingzhen to Tumen City. We could not confirm as to whether this levee was designated purely for flood-control, or also for the prevention of defections from North Korea.
*** Rimjin-gang
<<< BACK TO PART 1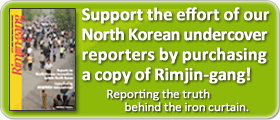 * Editor's notes on North Korean reporters
ALL REPORTS >>>
ARCHIVE(pdf) >>