The New Year's Day art performances, which were being prepared extensively in the newly-opened Samjiyon tourist zone of Ryanggang Province have been abruptly canceled.
On December 30, a reporting partner living in Ryanggang Province told ASIAPRESS, "Since early December, performers from art schools and other institutes across the country were gathering but the performances were suddenly canceled and the performers sent home."
The New Year's Day performances have traditionally been held in Pyongyang but, this year, the decision was made to host the performances in the Samjiyon district, a tourist zone developed on the personal orders of Kim Jong-un. For this reason, musicians, dancers and other artists were gathering in the Samjiyon area since early December.
As to why the performances were canceled, the reporting partner said, "There is no clear explanation from the authorities but the poor supply of electricity was making the performers from Pyongyang shiver with cold in their rooms. They were in no condition to perform."
Kim Jong-un gave orders in November, 2016 for Samjiyon to be developed into a world-class international tourist zone, forcing the public to supply manpower and resources towards the national project. Indeed, Kim Jong-un showed a lot of enthusiasm for the project, visiting the construction site 3 times in 2018 and another 2 times in 2019 to make inspections. On December 2, last year, he came once again to Samjiyon for the ribbon-cutting ceremony to mark the completion of the site.
Over the past few years, the construction of the tourist zone in Samjiyon was frequently reported in state media to give the impression that the economy was going smoothly, even under the strong U.N. sanctions.
Although the newly-built apartments in the heart of Samjiyon are equipped with electric heating systems, frequent power cuts as well as a ban on firewood and coal, have led residents to complain that their "apartments are like freezers." (Kang Ji-won)
※ ASIAPRESS contacts reporting partners in North Korea through smuggled Chinese mobile phones.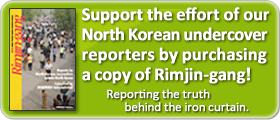 Editor's notes on North Korean reporters
ALL REPORTS >>>
ARCHIVE(pdf) >>
DPRK MAP >>