◆ Kim Jong-un directly criticizes the situation in Hyesan
Hyesan, the central city of Ryanggang Province, was placed under lockdown on January 29, with residents banned from going out and the market closed. Now, as economic activities are completely paralyzed, more and more residents are scared of dying of hunger, as their city experiences lockdown for the second time since last November. (Jiwon Kang)
According to multiple reporters living in Hyesan, on January 29, a police officer visited neighborhood political units and informed them of the 30-day total lockdown.
A reporting partner gave the following description:
Q: What's the reason for the sudden lockdown?
"There was an absolute uproar because Kim Jong-un said 'there is a lot of illegal activity in Hyesan.' The criticism was obviously due to the smuggling with China but, since last fall, there have been many people praying to escape to China due to severe poverty."
Q: Are the containment measures strict?
"As with last year's lockdown, going out is completely prohibited, so you cannot visit your neighbors' homes. They say that violators will be sent to the 'Labor Training Camp' for 3 months. The market has also been closed down. Neighborhood political unit leaders, police officers, and the anti-socialist censorship group officers are monitoring the streets to make sure that no-one is going out."
※ "Labor Training Camps" are short-term (less than one year) forced labor camps for violators of the social order. The police have the right to sentence violators to such camps without trial.
※ The anti-socialist censorship group is an organization dedicated to cracking down on violations of the social order. Its officers are members of the Youth League, Women's Alliance and other such organizations and in charge of cracking down on those sporting 'anti-socialist' clothing and hairstyles as well as those not wearing their Kim Il-sung badge.
Q: Are factories and workplaces closed?
"All work is suspended. Police, Secret Police, Workers' Party agencies and the People's Assembly are said to be taking turns working.
Q: What are you doing about food if you can't go shopping?
"The authorities are saying that they will give rations, but they haven't as yet (February 2). Officials had suggested that there might be another lockdown, so there was a rush on the market. However, the prices did not rise wildly because the police had stepped up their supervision of the markets to prevent it."
Q: So the market was closed?
"As we have to buy food directly from the vendors, we have no choice but to give money to police or other officials [who can go out]. But the vendors say they are out of stock. The future is very uncertain."
◆ People with swollen faces
Q: Since the second half of last year, it's been extremely difficult to survive. Will people be able to endure a second lockdown?
"The number of people with swollen faces (a common sign of starvation) is already increasing and everyone is beginning to have a look of desperation in their eyes. If we are locked down for 30 days like last year, there will be a lot of deaths."
Q: Isn't crime on the rise?
"It's hard to even go out at night, it's so scary. On January 28, there was a robbery at knifepoint in the neighborhood, with the thief tying up a couple and their young child before stealing their bicycles, TV, and clothing."
Q: Have there been any complaints or backlash due to the lockdown?
"There was a commotion with people asking the police if they would not be able to leave their homes if their family were dying of illness. In one neighborhood there was someone who drunkenly ran out of their home with a knife yelling, 'I am going to kill myself.' Since last year, more than a few people have committed suicide out of desperation."
There is almost no electricity these days, so even if I wanted to contact you in a hurry, I can't charge my phone and it won't connect. The authorities say, 'If there is an emergency, stick a piece of paper on your door and a police officer will report it and take appropriate measures."
The government keeps telling us that the coronavirus has killed hundreds of thousands of people in the United States and other countries but, here, we are more worried about where our next meal will come from rather than the coronavirus.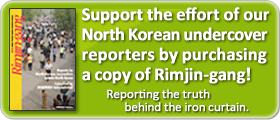 Editor's notes on North Korean reporters
ALL REPORTS >>>
ARCHIVE(pdf) >>
DPRK MAP >>