Rimjin-gang
2014/January/20
Even in the highest quality apartments in Pyongyang running water is irregular and unreliable
Most of the foreign tourists who visit Pyongyang will be overwhelmed by the cluster of tall-apartment buildings, systematically constructed, and contributing to the importance of Pyongyang as "the capital of the revolution". However, in stark contrast to the ultra modern-looking appearance, the reality of the lives of the residents of these showcase apartments is not as we might imagine.
Han Sang-ho, a former employee at the education department and long-term former resident of Pyongyang who left for Japan in 2010 gives us some insight into the everyday lives in the large apartment buildings. For example, there are endless problems with the very basic facilities in these complexes, which on the outside appear well put together. One such challenge is obtaining running water from the facets. This proves to be a continuous battle, as the pumps designed to move water through the system simply do not function. This is due to the irregular electricity output. The result is that in the high-rise apartments that now grace the skyline of Pyongyang, obtaining the most basic of things - a reliable source of running water - is not possible.
Han, commenting on the water facilities in Pyongyang, offered the following t estimony,
"When I lived in Pyongyang our home had a separate water pump installed, during the construction process the pipes were connected but the water was only drizzling from the facet. The problem wasn't the pipes; it was with the electric pump that was supposed to move water through the system.
The power wasn't allowing for it to work effectively. In North Korean homes people need to store water in vessels that they keep in large quantities. On the rare occasions when water does actually flow from the taps, they fill up the containers as much as they can."
Pyongyang is the most privileged place in the country, however, even a person like Han, who was a middle class public worker, has to live in such conditions.
The root of the problem plaguing these modern yet defective apartments is evidenced in several issues: A lack of materials results in low quality and fragile structures. Further, the rush to construct the buildings, led by the engineering battalion and compulsory-mobilized teams from local workplaces, means that basic building requirements are compromised. Implementation of an unreasonable work schedule, in the name of a "the construction battle", spurs the work on but at a heavy price.
Han recalls the beginning of his new life following his arrival in Japan:
"I came to Japan and here power and water are fully available, you can use as much as you want. This is what I could not believe".

*** Rimjin-gang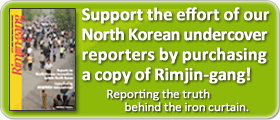 * Editor's notes on North Korean reporters
ALL REPORTS >>>
ARCHIVE(pdf) >>