The Daily Life of North Koreans
2014/February/28
Written by PAEK Chang-ryong, a defector reporter
Mickey Mouse was once considered a symbol of "imperialism."
The First Secretary Kim Jong-un attended the performance of the all-female music group, Moranbong Band in Pyongyang in June, 2012. The stage was set with a rendition of the Korean traditional folksong Arirang, and various songs performed in praise of the "Dear Comrade Kim Jong-un". What followed this, however, was unprecedented, as an "all-star-cast" of American popular culture appeared to regale the audience with show tunes.
The theme song from the famous film "Rocky" and Frank Sinatra's "My Way" were played through the speakers, as actors dressed as Mickey Mouse, Minnie Mouse and Winnie-the-Poo danced along with the female chorus offering a rousing rendition of "It's A Small World" in Korean. Behind the band, scenes of Snow White were projected onto the large stage screen.
According to the U.S media, the Walt Disney Company later commented it had not authorized the likeness of their characters to be used in this performance.
At the end of the show, Kim Jong-un, together with the general staff of the People's Army, offered a round of applause for the efforts of the female musicians.
In North Korea, the United States continues to be referred to as "American Imperialists" and regarded as the "first archenemy" of the DPRK.
There has been speculation that this scene was some kind of signal from Kim Jong-un to the U.S, a sign that the young leader was reaching out for improved relations, but the true reason remains unclear.
The Mickey Mouse character, printed on bags and T-shirts, are often seen in the video footage recorded by our undercover reporters, these items are said to be imported from China.
Usually, at the North Korean border control, inspectors undertake a strict censorship of South Korean products, such as clothes and cosmetics, to prevent the infiltration of things considered subversive to the regime, into the country.
Traders disguise the items by unwrapping the original packaging and taking off the tags. However, it seems there are no restrictions on items embossed with "Mickey Mouse" pictures.
Mickey Mouse, who recently celebrated his 85th birthday, is loved by children around the world. It is unclear how many North Koreans who wear these products know who Mickey Mouse is, or that the dancing, singing rodent is regarded as an "icon of America".
Should Mickey Mouse continue to gain popularity in North Korea, it will be interesting to see if this iconic mouse has an impact on North Korean's views of what lies outside their country.
*** Rimjin-gang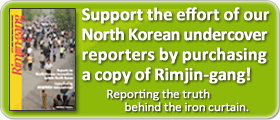 * Editor's notes on North Korean reporters
ALL REPORTS >>>
ARCHIVE(pdf) >>