◎ASIAPRESS rimjingang YOUTUBE playlist
Ragwon station of Daesung District in Pyongyang. Military policemen are restraining people in shabby clothes or with big luggage from entering the station. They are stopping those who use the subway to enter the centre of Pyongyang. The people are experiencing huge difficulties in transportation. Military policemen stubbornly shout toward those who are complaining of the stopping. They force the people already in the station to get out. The reporter explains that control like this happens when an occasion of "an event" such as foreig visit or Kim Jong-il's moving. The images of the people in Pyongyang on the overseas media are the results of the control for the stage. Filmed by the reporter, Gu Gwang-ho in June 2011. Related article:
https://www.asiapress.org/rimjin-gang/report/interview-pyongyang_part2/
It is reported that, since this summer [summer 2014], there have been series of purges of Party cadres and military ranking officials. A phone interview with a trader from Pyongyang who has recently traveled to a Sino-North Korean border town offers more detailed information about the ongoing purges and crackdowns in North Korea. The interview was made on 25 November, 2014. Footage copyrights : ASIAPRESS The video footage may not be used in any form(copying,selling,renting,distributio­n,screening,broadcasting,webcasting and debunking) without the prior written consent.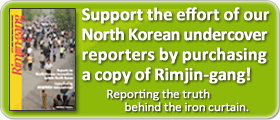 * Editor's notes on North Korean reporters
ALL REPORTS >>>
ARCHIVE(pdf) >>