Edit by Kang Ji-won, defector reporter, Rimjin-gang
ISHIMARU Jiro, editor in chief - Rimjin-gang
It is reported on December 2, 2015 by a reporting partner in North Korea that farmers are causing unrest because they are not receiving their share of the crop. The conflict occurred between the farmers and the official of the collective farm in the North Hamkyung Province regarding the distribution of the threshed rice to the working farmers.
The place where the incident occurred is a collective farm in northern area of North Hamkyung Province. After harvesting rice plants, the farmers threshed each portion using the equipment on the farm. The mass protest occurred as the farm official withheld the whole quantity of the rice from the farmers with the reason of debt collection.

Our North Korean reporting partner after visiting the farm reports the details of the incident;
"The farmers have been allowed to bring their portion of the harvest this year. The farmers brought their rice plants to the farm since the farm officials offered them to thresh the rice by using the farm equipment.
However, the farmers were outraged as the officials deducted the debt without their notice. They call it 'A threshing fraud.' The anger of the farmers resulted in the farmers flocking to the official's house and throwing stones continuously at the house through the week."

Another reporting partner covered the situation of another farm nearby. It is reported that the complaints of the farmers are similar as more troubles are occurring surrounding the threshing of rice.
North Korea, where collective agriculture has been continuously carried out in collective farms, has segmented the groups into smaller units which have been in charge of cultivation in each section throughout the recent years. The farm where the incident occurred has started a consignment production system by the unit of a family from this year. Accordingly the group officials' power has been reduced.
*** Rimjin-gang
(*Rimjin-gang/ASIAPRESS smuggles Chinese carrier mobile phones into North Korea. These devices function in the border area of North Korea. Using these, our North Korean reporters and reporting partners communicate with us on the latest developments.)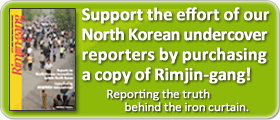 * Editor's notes on North Korean reporters
ALL REPORTS >>>
ARCHIVE(pdf) >>