South Korean President Moon Jae-in is visiting Pyongyang in North Korea on a two-night, three-day schedule starting on September 18th. He is also likely to visit Baekdu Mountain in the north, where it is said that local residents are currently being mobilized to work. (Kang Ji-won)
A reporting partner who lives in Yanggang Province, near the foothills of Baekdu Mountain, reported the following on the morning of the 18th:
"In order to prepare for President Moon's visit to Mt. Baekdu, factory workers, civil servants, and members of the Inminban (neighborhood units) have been working since September 13th to improve the roads from Hyesan to Samjiyeon. Senior officials from the central and local government are gathering in Samjiyeon."
In addition, our partner reported hearing that security agents and border guards have been mobilized throughout Yanggang Province to strengthen control over residents and reinforce security at the Chinese border.
The closest airfield to Mt. Baekdu is in Samjiyeon, with Hwangsuwon Airfield in Hyesan City also nearby. As the weather changes frequently in the highlands, however, there is a chance that landing in Samjiyeon may not be a feasible option. Therefore, to prepare for the possibility of landing at Hwangsuwon Airfield, the authorities have mobilized local residents to hastily repair the road from Hyesan to Samjiyeon.
President Moon, in his meeting with Kim Jong-un at Panmunjom in April, expressed his desire "to climb Mount Baekdu."
※ Mt. Baekdu at 2,744 meters above sea level, is the highest peak on the Korean peninsula. In addition to being the mythical birthplace of the Korean people, North Korea falsely claims the site as the birthplace of Kim Jong-il, where Kim Il-sung was based during his anti-Japanese activities.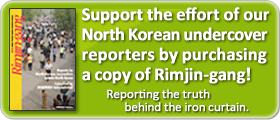 Editor's notes on North Korean reporters
ALL REPORTS >>>
ARCHIVE(pdf) >>
DPRK MAP >>