When asked about Kim Jong-un's evaluation to North Koreans, their replies are mostly negatives: "a rookie," "fearful," or "living condition became worse." In addition, they frequently utter a curse on his wife 'Ri Sol-ju'. Followings are interviews with ordinary North Koreans. (Kang Ji-won, Defector Reporter)
"We called her 'Respected comrade Ri Sol-ju' when she appeared at first. But we started to curse her. Why should we respect that girl who has done nothing? Or, why is she carrying a bag for money? Is she trying to give away money?"
This is saying by a male laborer in Yanggang province. His comment implies disdaining for the first lady being too inexperienced and young
It is known that Ri Sol-ju was born in May 1989 according to the information from the Korean authorities. If correct, she is 26 years old. She participated in the Asia Running Championship held at Incheon, Korea on September 2005 as a member of the cheer group (it is known as the cheer group of the beauties). She joined the Galaxy Orchestra of North Korea as a singer, which means she is from the entertainment world.
More evaluation on her continues.
"People cursed severe words on Ri Sol-ju. People feel really absurd when they see her acting charmingly with smile beside Kim Jong-un, while holding bag for money and wearing short skirts. The General (Kim Jong-il)'s wife (Ko Yong-hui) used to accompany the General for the spot inspection wearing military unform….. (A business woman in north Hamkyung province)
It is interesting to see the response of the people toward the bag for money. While Ri Sol-ju is holding a black handbag, people figuratively compare it to a second bag of female vendor, used to keep money at the marketplace. It is not usual until now to see young female carrying a handbag in Pyongyang, not to speak of local towns.
She recently seems to have become calm compared to what she appeared be as frivolous, when she first appeared young. But I don't believe she knows anything about the condition of the bottom, as indicated through her behavior (at spot inspection, etc.) (A male laborer in north Hamkyung province)
It is hard to find any official saying of Ri Sol-ju from the North Korean media. All the criticism by North Koreans is based on the images from videos or pictures in the media. If the criticism is only based on the fact she is young and beautiful, it goes without saying that it is not her responsibility.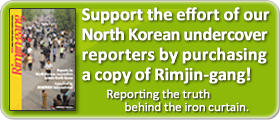 * Editor's notes on North Korean reporters
ALL REPORTS >>>
ARCHIVE(pdf) >>
DPRK MAP >>