In North Korea, 200-day battle and combat to support farm village are simultaneously carried out. A reporting partner of ASIA PRESS reported that the government mobilizes unemployed and no-show employees to work at farm villages under the name of "Troop for labor training."
* Unemployed, no-show employees: North Korea has a state system which provides vocation for all the people, but many of them walk away from their designated jobs. No-show employees are those who walk away from the workplace to do their own business or sell their labor for private earning because most of the state factory or enterprises don't pay the wages or distribute ration even if the employees appear to work. Unemployed are those who eliminated their names from the workplaces.
Related article: [North Korea Video Report] Nominal farm mobilization: People feel squeezed
A reporting partner in a northern province of North Korea reported on 21st of June: "Mobilized labor force, comprised of unemployed and no-show employees, are doing farm work such as weeding a field. They set up a tent at farm promotion center for daily living. The control over them is at the hands of discharged veterans with party membership who were chosen by the People's Security Station. They are responsible for the daily tasks of the labor force and perform night guard to prevent the escape of the detainees. It is rare to see any deserting since the mobilized people are organized in a military like system, such as a platoon or a company, which would put its members under joint responsibility for any deviation."
* Troop for labor training: it is a punishment for minor offense, which imposes enforced labor of 3 to 6 months.
Related article: Rising discontent as control reinforced to prepare the 7th Workers Party Conference in May… Forced labor to the runaways from their work places and coerced savings to banks…
It is reported that the authorities make platoons to compete each other for productivity enhancement and impose additional work for the defeated. The productivity rose and the farm was satisfied with the result. There are signs of broadening mobilized labor to farm village in North Hamkyung Province being encouraged by that system.
The reporting partner reported that the mobilized unemployed were handed over to their previous workplace for permanent control after 2-3 months of labor.
Related article: People are exploited in mobilized labor (2) Recorded women's complaining voices; "This is all free labor," "Everything is taken by the high ranks"
On the other hand, there are concerns about the mobilized people.
The reporting partner reported that he was told: "Too much hard labor brought the work force into exhaustion. There are so many burglars in the work area, so the residents feel fear at night even though they like hard working by the labor force during the day time."
Crack down on the unemployed is reinforced to supply more labor force to farm village as demands increase.
The reporting partner reported the local situation: "The unemployed, saying 'it is better to die rather than to go there,' try to bribe the officials to avoid arrest or hasten process to enter a workplace as soon as possible."
* Asia Press uses Chinese phone to contact internal cooperator in North Korea.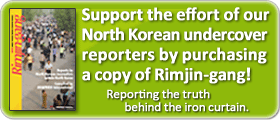 * Editor's notes on North Korean reporters
ARCHIVE(pdf) >>
DPRK MAP >>