2017/Nov/20
On November 13, a North Korean soldier posted at the JSA (Joint Security Area) of Panmunjom defected across the DMZ. While undergoing surgery for gunshot wounds, a number of parasites and undigested corn were found in his stomach. These discoveries speak to the difficult conditions in which North Koreans live. The defected soldier belongs to North Korea's JSA unit, an elite troop, according to the South Korean government.
But just how bad are things in the North Korean army? An instant interview was arranged with a reporting partner in North Korea, to answer this question. (Kang Ji-won/ISHIMARU Jiro)
The interview took place on November 17, 2017:
Reporter: Have any soldiers you know been discharged due to malnutrition?
Partner: It is hard even for ordinary people to make a living. It may well be harder for soldiers due to supply problems. The result of supply problems is tat you find soldiers suffering from malnutrition. We have four such soldiers in our village. One was a run away from his unit; an officer came to retrieve him. The rest of them were discharged due to medical issues like malnutrition and the tuberculosis. The parents are glad to have their sons back, even in such a bad state.
Reporter: If parents are capable of providing food and money to their kids, is life in the military hard?
Partner: How much do you think parents would have to provide to young soldiers for them to survive? Only affluent families can afford provisions like that. Ordinary people can't manage it..
Reporter: Do you know where these discharged soldiers were stationed?
Partner: All of them are said to have served at the front (the southern region). Here, in our village, we say "If you go to the 2nd corps in Hwanghae or Kangwon Province, it means 'going for malnutrition, not to the military'."
Reporter: But your side (the regime) often threatens war. Is it possible to wage a war with such weak soldiers?
Partner: They may call on extra military for a real war… [It's questionable that] ordinary soldiers would even be able to shoot their guns.
Even if the ASIAPRESS reporting partner's testimony reveals only part of the reality of life in the North Korean military, it shows how serious conditions can be for some soldiers.
Last August a reporting partner in Yanggang Province reported on the nutrition problems of North Korean soldiers: "Soldiers in the border guard, where working conditions are far better compared to others, look haggard. It's said that there are many soldiers with malnutrition. The frontline regions are tougher (Kangwon and Hwanghae Provinces). There are many soldiers from the frontlines who have been discharged due to malnourishment. All of them have very thin necks….When we see soldiers during a rally or in the open markets, it seems that ten out of thirty are suffering from the effects of malnutrition.
*ASIAPRESS sends Chinese mobile phones into North Korea to cover the inside story.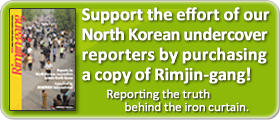 * Editor's notes on North Korean reporters
ARCHIVE(pdf) >>
DPRK MAP >>