Rumors are spreading in North Korea that President Trump will be impeached and that economic sanctions, thereafter, will be lifted. In mid-November, a reporting partner from northern Ryanggang Province gave the following report:
"Trump's dogmatism is hurting the American people financially. Democrats plan to impeach Trump and chances are the Democratic candidate will become the next president. These days, one hears rumors at the markets and on the streets that, if Trump is impeached, the sanctions will be lifted."
According to the reporting partner, the source of these rumors are trade agency officials who travel to and from China. In North Korea, where foreign information is blocked, valuable knowledge from the outside world is passed on by Chinese traders and quite credibly accepted.
The Trump administration is rocking from the impeachment inquiry into the "Ukraine allegations", initiated last month by the US House of Representatives. Meanwhile, news on this unfolding political situation is making its way to North Korea through the mouths of trade officials returning from China.
Whether Trump will be impeached, however, is very unclear at this point. Even if the next president comes from the Democratic Party, there is little to suggest that economic sanctions against North Korea will be eased or lifted. Nevertheless, as North Korea's economy continues to deteriorate, rumors of Trump's impeachment and a resulting end to the sanctions are spreading like wildfire.
It has been 2 years since economic sanctions were drastically tightened by the UN Security Council. Compared with 2016, exports have fallen by about 90%, with foreign currency imports plunging. In Pyongyang, the wealthy and high-ranking class has almost collapsed, with many elites losing their income from exports of coal and other goods. In addition, apartment prices in the capital have fallen significantly.
The police are also facing a serious budget shortage. Operations are currently being maintained by collecting bribes. In provincial areas, many factories have stopped operating due to a lack of financial and material resources. Goods are not being sold at markets due to the economic depression and ordinary people are suffering from a huge drop in cash income.
North Korea is gripped with anxiety over when the sanctions will be lifted. Fanned by this national sense of unease, rumors of President Trump's impeachment and false hopes of an end to sanctions are escalating rapidly. (Kang Ji-won)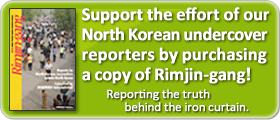 Editor's notes on North Korean reporters
ALL REPORTS >>>
ARCHIVE(pdf) >>
DPRK MAP >>