A reporting partner in northern part of North Korea reported that the crackdown on the use of Chinese currency at markets has been reinforced. Surveillance cameras are installed at the markets and, sometimes, the Chinese money are confiscated if used. (Kang Ji-won/ISHIMARU Jiro)
On telephone conversation of November 7, a reporting partner in Yanggang Province said "Crackdown on use of Chinese money is so severe. They used to ignore it before, just implying not to use them anymore. But they forfeit the money if they happen to see it."
The North Korean authority has regulated the use of foreign currency at the market, but it has been tolerated to some extent. Merchants have used the Chinese money openly if they could evade the eyes of the market controllers. Giving changes in the Chinese money used to be common. As the value of North Korean Won has decreased constantly, so its low credibility has made people to use safe currency, namely foreign money. Meanwhile, the devaluation of the North Korean Won has stopped during the last two years.
The partner explained the toughness of the crackdown, saying "Disciplinary Units forfeit all the money from either the seller or the buyer if they happened to see the Chinese money by pretending to be a buyer in plain clothes. It is the same as people give away Chinese money to the Disciplinary Unit if they go to the market with Chinese currency."
A large number of surveillance cameras were installed to watch the use of the Chinese currency. The reporting partner reported that 15 cameras were installed at Hyesan Market, but only 4-6 are working properly. Market controllers are watching through the cameras and if they caught the scene, they come out immediately and bust.
"Crackdown on use of foreign currency has got tougher since the end of August. Installation of surveillance cameras and confiscation are recent happenings," confirmed another reporting partner in Yanggang Province
When asked a question whether the Chinese money is someone's property and what they would do, he replied "if a mediator is available, they would give the money back, but in our currency (North Korean Won), not in the Chinese currency. They change them into our money (North Korean Won). If there is no mediator, they wouldn't return the money. Even if they would return the money in North Korean Won, the exchange rate is unfavorable compared to the actual rate."
Why does the authority start the crackdown on the use of the Chinese currency? It might be a preparation for the economic sanction on North Korea.
Or, the authority tries to absorb foreign currency from the public as they expect the sharp drop of foreign earnings due to the sanction. It was not confirmed whether the regulation on the use of foreign currency was reinforced in other regions as of November 9.
*Gyuchaldae (Disciplinary Unit) An organization to check social norm and chaos. Members are chosen from Youth Union, Women Union or schools.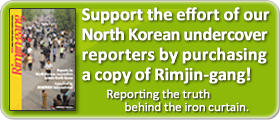 * Editor's notes on North Korean reporters
ARCHIVE(pdf) >>
DPRK MAP >>