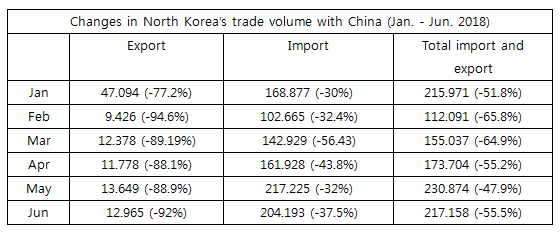 ◆ June exports to China fall by 92% compared to previous year
On July 23, the Chinese Customs authorities released trade statistics with North Korea for the first half of the year. According to the statistics, North Korea's exports to China in June amounted to only 12,965,000 million USD (approximately 14.47 billion KRW), which is a 92% decrease from that of the same month of the previous year. Foreign exchange earnings continue to struggle.
Since June, smuggling has increased owing to the collusion of the Chinese authorities, but this will have little effect on total trade. The production of major exports such as coal, textiles, and iron ore has all but ended, and millions of people are experiencing a considerable decrease in cash revenues. Even the wealthy individuals of Pyongyang, who shared in the trade revenues, have been affected.
◆ No change as expected
Disappointment is spreading in local cities as well. A reporting partner from Yanggang Province said,
"When Kim Jong-un talked with President Moon Jae-in at Panmunjom, I thought we would move closer toward unification and our lives would improve with South Korea's help, but business is becoming more difficult and life is getting worse every day. Although there are some trade companies that gained through smuggling, I want to run away to China or South Korea."
Another reporting partner from a city in North Hamkyung Province expressed his disappointment.
"There was no change as expected. Everyone seems to be disappointed. My wife goes out to work in the market, but we have days when there are no customers. There are many people who give up running their business because they would lose money by paying market taxes if they can't sell anything, so there is a rising number of people who complain about their financial hardships. (During the summits) I thought our lives would improve right away, but poverty is the only thing that will be left with us commoners."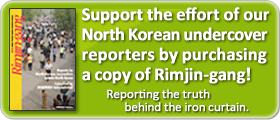 Editor's notes on North Korean reporters
ALL REPORTS >>>
ARCHIVE(pdf) >>
DPRK MAP >>