How did the North Korean people react to President Moon Jae-in's first visit to North Korea? With the cooperation of internal reporting partners in North Korea, ASIAPRESS shares the people's reaction. On September 21st, one day after the return of President Moon, a North Korean woman shared her opinion with ASIAPRESS. (Interview conducted by Kang Ji-won and organized by ISHIMARU Jiro)
◆It looked like a grandchild with his grandfather
Q: Please tell me about your impression of President Moon Jae-in.
A: He looks like a grandfather. There is a big difference in age (with Kim Jong-un). I think he played up his age purposefully for the sake of reunification. It was well done.
Q: When President Moon arrived at Pyongyang airport, he greeted the North Korean people with a 90 degree bow. Did you see that?
A: I did not see that. The scenes of him waving his hand (on the tarmac) were shown in the media.
Q: How do you see the results of the inter-Korean summit?
A: At the talks, there was a mention of national unification. But people were telling each other that they expected South Korea to provide economic aid and hoping for it but (as the aid did not come) it's a pity. Government officials and agency supervisors are saying "We have to watch the situation more." It's true that we are in the palms of America's hands.
Q: The issue of denuclearization is still an agenda to be achieved?
A: (North Korea's) economy is in a state of disarray, but if South Korea invests in it, it will get back on its feet. To do that we can't but give up our nukes. (Government officials)say that "if we give up our nuclear weapons, we will be slaves" and that "it would be better to do business by smuggling goods through China."
Q: If North Korea denuclearizes, South Korea, Japan, and China would support and invest in the country, no?
A: I wish North Korea would give up nuclear weapons so that North and South Koreans could come and go freely. It would be wonderful if we did away with nuclear weapons and quietly got along with business. As for people above me, though, I do not know (their feelings).
Q: Do you think Kim Jong-un will opt for denuclearization?
A: It has been said that we will denuclearize. But still the government is lauding itself as a nuclear power. But do you think the government would sacrifice so much to make the weapons and then simply give them up? Of course not. Because of the nuclear weapons, South Korea and the United States set up talks with us. If we didn't have nuclear weapons, who would meet with us? I can see why the government is not giving up the weapons.
On the 21st, the day after President Moon left North Korea, the northern area near the Chinese border was still on high alert.
"The special alert has not yet been lifted, so they are using radio detectors to catch people communicating with those in foreign countries. I am risking my life by speaking now." said our reporting partner.
※The interviewee was a married woman in her thirties living in North Pyongan province. She has personal connections with government officials.
※ASIAPRESS brings Chinese mobile phones into North Korea to maintain contact with reporting partners.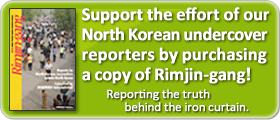 Editor's notes on North Korean reporters
ALL REPORTS >>>
ARCHIVE(pdf) >>
DPRK MAP >>