According to what our reporting partner heard from local officials, a total of 80,000 people were mobilized for the Samjiyeon project over the course of 2018. However, as members of the 2.16 Storm Troops Division are replaced after six months, up to 40,000 workers were estimated to be at the site at any one time this year. These workers were forced to live in simple barracks near the construction site, grouped together according to region.
Our reporting partner further explained, "Next year, the state plans to mobilize a total of 160,000 workers. In order to transform Samjiyeon into a world-class tourist destination, the state will focus on renovating old houses in Pochon County and Potae Workers' District, which line the road to the tourist zone, and double the number of mobilized workers."
In addition, the reporting partner described the frustrations of the local people: "The mobilized workers are unpaid and local residents are forced to offer materials or donations to the project. It's becoming a huge burden."
※ Construction of the Samjiyeon Special Tourist Zone
The North Korean government announced plans to transform the Mubong District into a "special international tourist zone" on April 22, 2015. The Rodong Sinmun reported on November 28, 2016 that Kim Jong Un, after touring Samjiyeon, ordered the construction to "commemorate Samjiyeon as a sacred ground of the revolution and as the hometown of Kim Jong-il." On February 22, 2017, the Rodong Sinmun published an editorial calling for "the entire party, all troops, and all North Korean people to be mobilized for the Samjiyeon construction". Thereafter, the construction of the international tourist zone in Samjiyeon became the Kim Jong-un regime's top priority.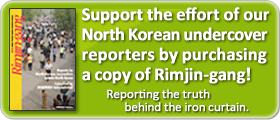 Editor's notes on North Korean reporters
ALL REPORTS >>>
ARCHIVE(pdf) >>
DPRK MAP >>