◆ No coronavirus test kits at regional hospitals
The next task for the regime will likely be to prevent a secondary spread of the coronavirus.
Coronavirus testing kits are expected to finally be delivered to North Korea in the third week of March by the International Red Cross, UNICEF, and Doctors Without Borders. As North Korea had sealed its borders entirely, there was previously no prospect for their delivery.
As of March 17, the North Korean government continues to announce that there have been "zero infections." It is more likely, however, that there was simply no way for North Korea to test for infections from the beginning.
Although ASIAPRESS reporting partners were able to make in-person visits to hospitals and speak to quarantine officials in Hyesan, Ryanggang Province, and in Musan County and Hoeryong City in North Hamkyung Province, their investigations yielded no information on the reality of the coronavirus situation.
Reporting partners claim that, since January, "Patients are simply prescribed cold medicine to buy at the pharmacy if they have a cough or fever. Beyond that, there have only been orders given to wear masks."
However, if there is even a small number of infected people within the country, it will be difficult to avoid an outbreak or identify the path of the spreading infection. This has been made clear from the experiences of China and other countries. The relatively small number of infections reported from Taiwan is said to be due to the government cutting off travel to and from China in the early stages, as well as efficient screening of the population and effective information-sharing. North Korea, though, has been anything but transparent, refusing to release any information at all.
Russia's Foreign Ministry announced on February 26 that it had donated 1,500 coronavirus test kits at the request of North Korea. It is also possible that the Chinese authorities have already sent test kits as well.
So, where will the North Korean authorities begin to use its limited number of test kits? The first place is, of course, Pyongyang. Those to receive test kits will be Kim Jong-un and the powerful core around him, as well as institutions with strong foreign ties such as trade agencies, and certain medical institutions with privileged patients. Next to receive kits will be those in Sinuiju, the country's window to China, and members of the military.
Until now, coronavirus testing could only be conducted in very few regions and by few institutions. If testing kits are received from international aid groups this week, however, the authorities can finally move on to the next phase of screening at the border, identifying the infection's path, and managing "clusters."
In other words, the North Korean authorities will finally become aware of the reality of the situation within the country. Depending on the authorities' next move, following the procurement of testing kits, the outside world may be able to guess whether the coronavirus has made it into North Korea and, if so, the extent to which it has spread. However, the Kim Jong-un regime will likely hold onto its claims of "zero infections." (Kang Ji-won/ISHIMARU Jiro)
※ ASIAPRESS contacts reporting partners in North Korea through smuggled Chinese mobile phones.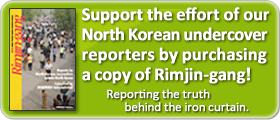 Editor's notes on North Korean reporters
ALL REPORTS >>>
ARCHIVE(pdf) >>
DPRK MAP >>