2011/June/20
Currency Unit : North Korean Won=KPW
Musan County


North Hamkyung Province


(June, 8)
Hyesan


Ryangang Province


(June, 14)
Pyongyang
(June, 14)
Rason
(June, 10)
Rice

(1kg=2.2lb)

1,900

2,250

(domestic Rice)


1,600-1,750


(Chinese rice)

2,100

2,200


(domestic rice)


1,700


(Chinese old rice)

Corn

(1kg=2.2lb)

750-780

1,100

1,250

800

Gasoline

(1litter=0.2gallon)

4,300-4,500

10 Yuan

3,800

10 Yuan

(1 litter)

Chinese 1 Yuan

400

392

391

430

U.S.Dollar 1 $

(real rate)

---

2,548

2,530

---
Regional Brief Notes
* Mobile phone crackdowns
Along the North Korean border with China, signals from Chinese mobile phone networks reach into North Korea. The official and legal North Korean mobile phone network requires registration with officials and systematically locks out all international incoming and outgoing calls. Chinese phones using Chinese carriers, however, allow international calling. Given this, possession of Chinese mobile phones is illegal.
If security officials find evidence of a user calling South Korea, a one-million won fine can be charged. The fine for calling China is 400,000 or 600,000 won. In addition, violators must serve five to seven days in custody.
The authorities regularly patrol the border area with specially equipped vehicles which can detect the signals from these Chinese phones in order to track and detain their users. (Musan Country, North Hamkyung Province)
* Dysfunctional rationing system at state-run institutions
In a Musan mine, food rationing is irregular. In the end of May, only one week's distribution quota out of the whole month's was rationed. These rations did not include rice, only corn. (Musan Country, North Hamkyung Province)


* Inspection campaigns
Massive inspections of border-guard patrol-units were recently mobilized. Inspection teams are detaining soldiers and even high-ranking officers who are suspected of involvement in smuggling goods or aiding people, some of whom are defectors, in crossing the Tuman River. The suspects are sometimes then driven around in order that they identify the homes of others involved in illegal operations. Electricity is supplied to this area only six or seven hours a day, from around 10:00pm to 4:00am.(Hyesan, Ryangang Province)
(Partial funding for this report and research was provided by a grant from the Open Society Foundations.)
Rimjin-gang - Periodic Report (2011-June-20) >>>
North Korea Food Shortage: Not a matter of absolute shortage, a matter of distribution and access

(ISHIMARU Jiro/Chief Editor/Rimjin-gang)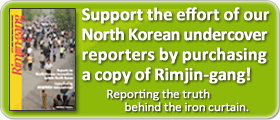 * Editor's notes on North Korean reporters
ALL REPORTS >>>
ARCHIVE(pdf) >>