2013/Dec/05
Written by ISHIMARU Jiro

Across North Korea, from the end of October onwards, news of public and private executions continue to emerge. Those executed are charged with offences in connection with 'Impure recorded material' including the smuggling, circulation, buying and selling of South Korean dramas, it is reported. Multiple sources from inside North Korea are reporting directly on the latest crackdown.
In early November a reporting partner living in North Hamkyung Province reported by telephone that in North Korea's third largest city, Chongjin city, three people were executed in connection with the spread of such illicit materials.
"On October 29th in Chongjin City, three persons were executed by firing squad. This news came from XX neighbourhood police officer who himself was given the news directly from his superior officers. The crime, according to the police officer, was termed as being related to 'Impure recorded materials'. It was further reported that at Kim Chaek Ironworks a further two people were similarly executed. These were not public executions."
According to our reporting partner in Chongjin, the heavy penalties imposed on anyone caught with such 'impure material' come as part of policies passed down directly from the top aiming at a renewed crack down on such crimes.
The fact that these issuances, published in late October, are regarded as 'policy'(방침) indicates that they came directly from North Korean leader Kim Jong-un and that North Korean society is currently a top priority for the young leader. Kim's policies require absolute obedience from North Korean citizens.
Multiple Reports Also Emerge on Firing Squad Executions in Hyesan City
Reports have also emerged at different times from other areas within North Korea on similar charges leading to firing squad executions. On 30th October South Korean based, North Korean defector-run organisation "Free North Korea Radio" cited sources inside the North, reporting that on 27th October, in the Northern Province of Ryanggang, two people were executed in similar fashion while six others were sentenced to time in a correctional facility. This report was widely cited and reproduced within the South Korean media.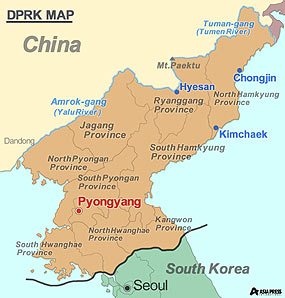 ASIAPRESS received reports on the Hyesan firing squad executions from separate sources, the following testimony, however, was almost identical to others coming out of North Korea;
"In Hyesan City, at the end of October, officials in the area were gathered together and judgement was passed on the cases of six individuals. Of the six, a man and a woman in their forties were executed by firing squad, the remaining four persons were sent to a correctional facility. The crimes of these individuals was announced as the illegal importation and distribution of 'obscene recording materials'."
Between these reports the number of people published differ, however the timing of the events and the details are identical and the information is considered reliable.
Hyesan City is close to the Chinese border and a great deal of black market trade and information flows from both sides.
Since August, North Korea launched the crackdown on the spread of 'Impure recordings'.
--------------------------------------------------------------------------------------
(* ASIAPRESS smuggles Chinese carrier mobile phones into North Korea that function in the border area of North Korea. Using these, our North Korean reporters and reporting partners communicate with us on the latest developments. )

### Rimjin-gang ------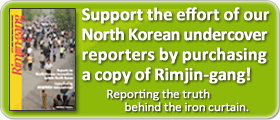 * Editor's notes on North Korean reporters
ALL REPORTS >>>
ARCHIVE(pdf) >>