2013/August/07
Speaker: GU Gwang-ho, Rimjin-gang reporter
Editors:ISHIMARU Jiro, LEE Jin-su
(All the information in this article is as of November 2011)
Rimjin-gang's North Korean reporter Gu Gwang-ho lives in the XX district of Pyongyang City. We cannot disclose his occupation, but he makes payments to the enterprise that he works at so that they deem he has been coming to work when in fact he is given free time and makes a living mainly through buying and selling goods. He has relatives in Jilin Province in China who sometimes offer support, so he often comes and goes to and from China, crossing the Tumen River, a river that runs along the border where patrols have become more stringent.
In Pyongyang, April 2012 is a milestone for building a "Strong and Prosperous Nation". Large-scale urban redevelopment projects are moving forward in the central city areas. Even amid the ongoing economic turmoil, the authorities plan to further enhance Pyongyang's show window functions if that is the only thing they do. So what is life really like for people living there today? We asked reporter Gu Gwang-ho to talk about this.
Capital City that Is Always "Prepared and Ready"
Q: Many foreigners visit Pyongyang. Last year, the number of tourists from China reached 130,000, and there are tourists from Europe and the United States as well. The citizens of Pyongyang welcome visitors from abroad with smiling faces, and the streets introduced by the media are neat and clean. What is the true story?

Gu: Pyongyang is always "prepared and ready". The people are forced to practice (how to come into contact with foreigners) so they are well groomed and smiling. But only about 20 - 30% of the people are dressed in truly nice clothes, if that. The remaining 70% of Pyongyang citizens are told to take part in events (because foreigners are coming), so they have no choice but to take part. They are told to wave bunches of flowers, so they have no choice but to wave bunches of flowers. But even if they want to wear proper clothes, they don't own any, so they sometimes borrow from others and go dressed up. If they fail to take part in events (when they are called up to do so), they may be expelled from Pyongyang. So they go even though it's against their will. But the people of Pyongyang are different from people out in the regions in that they pay a lot of attention to how they are dressed. The ordinary citizens walking the streets are not dressed all that poorly.
Q: Are living standards different in Pyongyang compared to regional cities?

Gu: Yes, of course. The capital city is the capital. Pyongyang has a large population, so goods sell quite well. Many people make money buying and selling goods. Some classes of society will buy luxury goods.
Q: So the citizens of Pyongyang have something like a sense of pride?
Gu: Yes, I think they do. Even if they don't eat well, many people will try to dress nicely.
Once food has been eaten, no one can tell what's in your stomach. Did someone have a meal of porridge before leaving the house today, or did they have a luxurious feast? Only they can tell. The people of Pyongyang feel, they may be worse off than others regarding what's in their stomach, but they don't want to be at a disadvantage regarding how they look. How you look signifies how respectable you are. But even if someone is smartly dressed, once they get home the house may be empty, or they may be eating so miserably you might cry out in surprise. There are many cases like that.
Making a Living by Buying and Selling at the Market
Q: To eat three square meals a day in Pyongyang without going hungry, how much would you need a month?
Gu: With a family of four, you would need 40 - 50 kg (or 88 - 110 lb) of white rice, or 70 -80 kg (154- 178 lb) of cornmeal. Corn alone would cost 60,000 won a month. Rice alone would come to 90,000 won. If you also buy other supplementary foods and soap and things like that you would need at least 150,000 won. (Using the exchange rates as of November 2011, one U.S. dollar is worth 5000 won. So 150,000 won would be about 30 dollars.) Even if you work at a company, the wages would be nothing like enough, so people have to go to the Jangmadang (market) to make money. About 70 - 80 % of Pyongyang citizens engage in some form of business to make ends meet.
Q: That means you need to make a profit of 5000 won a day. What kind of business do people engage in?
Gu: Many people buy and sell food. Foodstuffs move every day, so sales are so-so. Sellers of clothing or shoes can make 10,000 even 20,000 won if they are lucky, but on other days they may have no profits at all. Business is conducted at the Jangmadang, which means you have to pay market tax of 200 - 300 won every day. There are lots of people trading on the streets outside apartment blocks in the video footage that I took. People who cannot pay market tax are forced to trade unauthorized on the streets or by apartment blocks. These people are the average Pyongyang citizens. People who engage in trade often try out their fortune using sinsu playing cards before going to work. For example, if they draw a Jack, there may be a crackdown at the marketplace, or they may be targeted by pickpockets, so they will remind themselves not to let their guard down and go to work. If they draw the number eight, they may run around in all eight directions, but with no reward. Or if they draw an ace, something lucky may happen.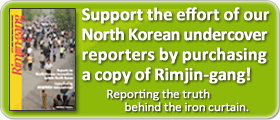 * Editor's notes on North Korean reporters
ALL REPORTS >>>
ARCHIVE(pdf) >>