2013/August/11
Speaker: GU Gwang-ho, Rimjin-gang reporter
Editors:ISHIMARU Jiro, LEE Jin-su
(All the information in this article is as of November 2011)
Pyongyang City Shrinking
Q: Last year, Chunghwa County, Sangwon County and other areas were cut away from Pyongyang City and reassigned to the North Hwanghae Province. Why do you think this happened?

(*Note 1 : In 2010, the four areas of Sangwon County, Chunghwa County, Kangnam County, and Sungho District which used to belong to Pyongyang City were suddenly separated from Pyongyang City and reassigned to the North Hwanghae Province. Some 300,000 people are believed to have become non-Pyongyang residents. In 2011 there were theories that Kangnam County had returned to Pyongyang City, but the details are unclear.)
Gu: People say Pyongyang City is too big for the current food distribution system, so these areas were reassigned.
Q: So the government is finally running out of money and can no longer maintain the "Great Pyongyang"?
Gu: That's probably it. Globally speaking, it may be better for a capital city to have a large population. But Pyongyang is unable to feed its citizens. This just shows that the state no longer has the power to do so. Everyone believes that's why. A nation is the same as an individual household. Even in the area where I live, we often say to each other, "Rather than increase the number of people who make money, decrease the number of mouths you have to feed." In short, this (the downsizing of Pyongyang) is the same as decreasing the number of mouths that have to be fed.
Q: What about the people in the districts that were suddenly cut off? How did they react?
Gu: I hear a lot of factories ground to a halt. There is a large cement factory in Sangwon County, and when the workers heard about being cut away from Pyongyang, it's said they held a sit-in protest and refused to work.
Dramatically Stricter Controls
Q: Have you ever seen or heard of anti-government protestors handing out flyers or writing graffiti on the walls in Pyongyang City?
Gu: Personally, I haven't. In the elections on July 24th (local People's Committee election). I hear there was a graffiti incident at a polling station in Anju in the North Pyongan Province. Even if there were a similar incident in Pyongyang, local residents would immediately inform the local police station or the State Security Department. Then the whole area is shut off. People who have already seen it are warned never to talk about it to others. If they do talk about it, they will be deemed political criminals that have committed the crime of disclosing secrets, so rumours do not spread very easily. In the regions, if there are people giving out flyers or writing graffiti on the walls, people can chat about it all they like and rumours will spread, but that is difficult in Pyongyang. If you aren't careful and talk, that alone will get you thrown in jail, and banished from Pyongyang unconditionally, so everyone is very careful.
Let me tell you a true story. Two female university students were talking about a "strong and prosperous nation" on the subway. One said, "With things as they are today, will we really become a strong and prosperous nation by next year?" The other replied, "Do you still believe in that stuff? There's no way we can ever be a strong and prosperous nation!"
When they got off at the next station, the person who had been sitting next to the two university students escorted them away. It's said the student who said "There's no way we can ever be a strong and prosperous nation" was never able to come back.
Q: Are residents banished from Pyongyang often?
Gu: There are often cases where residents are banished for next to no reason at all. If you commit a crime, you are banished immediately. Be it a financial crime or a political crime, in all cases you are banished. It's much stricter than in the regions. So everyone is constantly careful about how they act and what they say. And because everyone is scared of being banished, the crime rate is lower than in the regions. The surveillance of residents is much stricter. Being banished from Pyongyang to the regions is a major, earth-shattering event, and signifies one's downfall socially.
*** Rimjin-gang
Gu Gwang-ho is in his thirties and lives in Pyongyang. He started his journalistic activities in 2011 after having training several times as a reporter by ASIAPRESS North Korea Reporting Team. He has made series of reporting in Pyongyang and South Pyongan Province successfully so far. His remarkable video report on starving People's Army soldier in 2011 was aired by many TV stations over the world.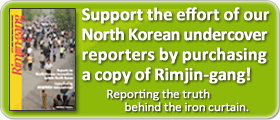 * Editor's notes on North Korean reporters
ALL REPORTS >>>
ARCHIVE(pdf) >>