2013/September/25
Written by LEE Jin-su
Drugs Widely Used Among the People, From Senior Officials to the Ordinary People
"Such a lot of drugs are in circulation in North Korea, there's almost no way to stop them. My husband became an addict, and we were no longer able to make a living, so my child and I escaped from Korea."
In the summer of 2011, defector from the North, Ms Min (assumed name), had this to say to Rimjin-gang in an interview in the border region between North Korea and China. Ms Min is a farmer who lives in the suburbs of Hoeryong City in the North Hamkyung Province, located across the Tuman-gang(Tumen) River from China. She used to make a living farming in the fields while also trading on a small scale. But because her husband became a drug addict, she crossed the Tuman-gang River into China.
We had been hearing for some time about rampant illicit trafficking of drugs in North Korea and increasing number of addicts. But we had never before heard of someone taking the grave risk of defecting from North Korea to escape, not from hunger or political persecution, but from the menace of drug addiction. Just how serious is the contamination caused by drugs?
" The government produced drugs to sell overseas, but today many citizens are using those drugs. We farmers hardly ever indulge, but in Hoeryong City, about half the residents have probably experienced doing drugs. Drugs have led to the destruction of families, and some people have had financial difficulties leading to their selling their homes and becoming homeless kotchebi."
That is what Ms Min had to say. It is hard to believe that nearly half the population of Hoeryong City, which is home to more than 100-thousand people, have been doing drugs, but this probably shows just how much drugs have been spreading throughout the country.
PART 1 - PART 2 - PART 3 - PART 4 - PART5
--------------------------------------------------------------------------------------
LEE Jin-su :
Lee was born in Japan. He is a third generation Korean residing in Japan. He works as a North Korea team reporter for ASIAPRESS. He lived in South Korea for ten years working for a human rights NGO. Lee has been to the China-North Korean border fifteen times since 2004. He has interviewed over a hundred North Koreans, mainly women who were victims of human trafficking. His theme is the human rights situation surrounding North Korea's economic revitalization process.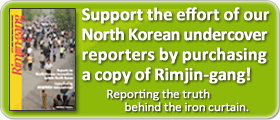 * Editor's notes on North Korean reporters
ALL REPORTS >>>
ARCHIVE(pdf) >>