The Daily Life of North Koreans
2014/March/04
Written by PAEK Chang-ryong, a defector reporter
"Military First Squid" has become a staple since the "Arduous March" in the mid-1990s.
What are some of the common foods available for ordinary North Koreans? One of the most well known is a kind of artificial meat known as injokogi 인조고기. For people who are faced with a chronic food shortage, this "meat" is a vital source of protein.
It is made from solidified oil squeezed from soybeans. The origin of this "soy-meat" is not clear, however, it was common in China in the past. In the present-day, it is also popular among vegetarians in Western countries, as it is known as a kind of 'soy-meat', although the shape of this product in North Korea is unusual.
The North Korean "artificial meat" is hollowed in the middle, like a hose pipe, and pressed flat so that it resembles a coiled belt (5cm/widthX3cm/thick= 2inch/widthX1.1inch/thick). While it is still moist it is coiled into a roll to dry. It is never entirely dried out, rather it is best served while it maintains some moisture.
It is sold by the kilo or meter at the public market and also on the street. 1 kilo (=2.2 lb) costs around 3,000 won, equivalent to approximately 40 to 60 US cents.
At the street stalls, "artificial meat rice pouch" is popular as a "people's fast-food". It is made of rice, stuffed into palm size pouches cut from "artificial meat" with some added flavoring.
In the 1990s, there was a period called the "Arduous March". Following the death of Kim Il-sung, the North Korean Public Distribution System (PDS) collapsed and a general economic meltdown prevailed throughout the whole country, exacerbated by a series of floods and crop failures, resulting in the death of some 2 to 3 million people by starvation, although the exact number is unclear. Artificial meat became common during this period, when the majority of people suffered from a shortage of nutrition and protein.
North Korean artificial meat has another name, commonly used instead of injokogi - "Military First Squid". This is a name satirically given by the people, since the 'meat' has a kind of rubbery texture similar to squid. Further, the substitute for actual meat appeared at the time when Kim Jong-il imposed the Military First Policy to break the impasse of the "Arduous March".
This artificial meat is processed by rolling solidified oil, squeezed from soybeans. The taste is affected by how many times the oil is rolled and squeezed. The oilier the better, as it gives a spicy tang to the finished product.
There are many recipes for producing "Military First Squid", mainly because it has become a very common food for ordinary North Korean people. When served with red pepper and vinegar it is preferred by men as a side dish for drinking alcohol, while stir-frying it with vegetables makes for a fuller meal. It is also popular with men who are mobilized for obligatory state construction, agricultural works and during military drills because the dried coils do not spoil easily, and are easy to carry.
When I was living in North Korea, "Military First Squid" was considered a must-have food to take with me each time I was called out for Red Guard military drills. During those times it was required that I leave home for 15 days at a time. After the training, we would enjoy precious times having small, secret drinking gatherings in the night. Together, with my comrades in the compound, the artificial meat, cut into stripes with grated horseradish paste, made for very good nibbles. I still remember when the comrades from the other team came to us and asked anxiously, "Could we have just one more meter?" after they had finished all of their own.
This is just one example of how the artificial meat is both crucial and genuinely enjoyed by North Koreans.
*** Rimjin-gang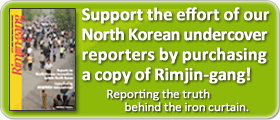 * Editor's notes on North Korean reporters
ALL REPORTS >>>
ARCHIVE(pdf) >>