◆Recently obtained excerpts of summit suggest Kim disregarded Xi's guidance
"You must start with denuclearization." The words of Chinese President Xi Jinping to Kim Jong-un when the North Korean leader visited China in early January. This according to a February 27 report by the South Korean newspaper, the Hankook Ilbo, which contained recently-obtained excerpts from the summit.
<Video> Kim Jong-un's visit to China, different edits in North Korea and China
If the excerpts are genuine, it means that China has joined the U.S. in pushing for the North Korean regime to give up its nuclear weapons. In addition, it suggests that Kim Jong-un has resisted both Donald Trump and Xi Jinping in walking away from negotiations with the U.S. in Hanoi.
According to the Hankook Ilbo report, Kim Jong-un rebuffed Xi Jinping at the January summit, complaining, "We have made a lot of effort to denuclearize but the U.S. has only strengthened sanctions." The North Korean leader also said, "If it is too difficult to lift the sanctions, then it remains a question what the United States can actually offer us. The U.S. needs to show a more progressive position."
Talking to Xi Jinping, Kim asked for China "to play a leading role" in shifting the U.S. position. Speaking on Kim's plans for reform and opening, however, President Xi Jinping said, "That is not the most important thing right now. You must start with denuclearization."
Pressing on, Xi Jinping said, "The international community's sanctions must be eased. China will play a role in denuclearization measures and will, of course, take part in peace treaty discussions."
The Hankook Ilbo report matches with information that ASIAPRESS has garnered from interviews with those living in North Korea. According to a Pyongyang businessman, whom ASIAPRESS interviewed in China in late January, "I heard that when Kim Jong-un visited China, he was put under a lot of pressure to denuclearize as soon as possible." (ISHIMARU Jiro)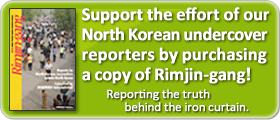 Editor's notes on North Korean reporters
ALL REPORTS >>>
ARCHIVE(pdf) >>
DPRK MAP >>