North Korean authorities reportedly ordered the central bank to begin disinfecting currency and replacing contaminated bills in order to prevent coronavirus infections.
On March 29, a reporting partner from a northern region of the country said, "Since [March] 24, the bank has been collecting and disinfecting banknotes and exchanging old bills for new ones. Institutions, enterprises, and trading companies are exchanging about a third of the bills they use for payments and are disinfecting the rest. It will take about a week."
At local people's unit (inminban) meetings too, citizens have been told that it is a requirement for them to disinfect their cash. This prevention measure is said to be rather ineffective, however, as few residents choose to hold onto North Korean currency in the first place. Aside from the local currency they receive from trading companies in exchange for wild herbs, ordinary citizens use Chinese currency almost exclusively in their everyday lives.
◆ North Korean Won continues to decline as locals use foreign currency for "protection"
Meanwhile, investigations show that the value of the North Korean won continues to decline due to the influence of the coronavirus pandemic. ASIAPRESS regularly tracks the exchange rates in markets in Ryanggang Province, North Hamkyung Province, and Pyongyang. Compared with rates at the end of last year, exchange rates at the end of March showed significant decreases, with the exchange rate for RMB falling 15.1% and the exchange rate for the US dollar falling 16.3%.
Prices, on the other hand, have all gone up in comparison with last year. The price of Chinese imports continues to surge, with gasoline and diesel prices rising by 33% and 36%, respectively.
Last November, Kim Jong-un issued orders for foreign currency usage to be reigned in, with police and officers of the Anti-Socialist Censorship Group mobilized to monitor its use. Since the worldwide spread of the coronavirus, this crackdown has been strengthened, with officers fully authorized to confiscate foreign currency.
The reporting partner explained the current situation, "We have no choice but to use local currency when outside. However, high-priced goods worth more than 100 RMB are bought and sold inside private homes or paid for with Chinese money outside of the markets. After the Chinese border was shut due to the coronavirus, traders have been buying up the foreign currency at markets and, amongst ordinary people, there is spreading anxiety about the North Korean won plunging."
The North Korean regime's strong crackdown on the use of foreign currency seems to be aimed at preventing a shortage of foreign currency and a depreciation of the North Korean won. Whether this will succeed at assuaging the impact of the economic sanctions and the effects of the coronavirus on trade remains to be seen. (Kang Ji-won)
※ ASIAPRESS contacts reporting partners in North Korea through smuggled Chinese mobile phones.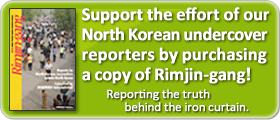 Editor's notes on North Korean reporters
ALL REPORTS >>>
ARCHIVE(pdf) >>
DPRK MAP >>