2015/July/20
Written by LEE Jin-su, Editor; Rimjin-gang and ISHIMARU Jiro, Editor in Chief - Rimjin-gang
Authorities take precautions against S-Korean media
In urban areas of North Korea, it has become common to see people using mobile phones. These devices are used not only as simple communication devices but also as multi-media players. Users watch North Korean content as well as content considered illegal by the state, mainly South Korean music, video and other content smuggled across the border via China.
Although these phones are not specialized readers like the Kindle they can be used to read simple text documents. This photo, sent by our North Korean undercover reporting partner, CHOI Kyoung-ok, again shows the model nicknamed "tubby".
PHOTO10:
File management Menu:
* Image
* Music
* Video
* Others. For book-reader, choose
"Other".
PHOTO11:
If the user selects "Other", a list of documents appears in the folder. Each document is displayed in simple text.
PHOTO11 displays one of these documents. The title of the book is "The tombs lost in ancient history"
PHOTO12:
The reading "Information of memory device" displays the data capacity of this phone.
From the top:
* Image
* Music
* Video
* Other
* JAVA
* The data capacity of this device is around 30MB.
When the mobile phone service was launched in North Korea, the majority of the models were equipped with an SD memory card or Bluetooth to transfer data between devices. Many North Koreans have been using these functions to exchange data. But from the latter half of 2012, the state removed all external memory terminals and data transferring functions, including Bluetooth from the phone.
The purpose behind this was to quell the influx of South Korean content - text documents, music, photo images and movies - smuggled through China. Such multi-media is circulated through mobile phones.
"I think most of Pyongyang's young boys and girls who use mobile phones have secretly listened to South Korean music or exchanged such data among close friends. It's very easy to do if the phone has Bluetooth." (Kim Dong-cheol, a North Korean undercover reporter lives in Pyongyang.)
----------------------------------------------
"The number of people who read South Korean novels and magazine articles has been rapidly growing. Before that, people had to use a PC to read these prohibited documents. But when you buy a PC now, it is registered and each owner is subject to regular inspections by the police. These documents are more easily read using mobile phones. I don't know where this South Korean content came from, but it are spreading among the people." (Choi Kyoung-ok, our reporting partner in Ryanggang Province)
----------------------------------------------
These comments are evidence that mobile phones are a media acting to accelerate the diffusion of information from South Korea. Of course, the North Korean state is aware of this phenomena.
"Police officers have been making frequent inspections of people's mobile phones on the streets. They question anyone they see wearing earphones and, on occasion, look into the contents of their phone." Police sometimes stop people on the phone, questioning them and coercing them to show them the files on their phone. This kind of stop and search started to become more common around 2012. (Kim Dong-cheol.)
Judging from these testimonies, it seems that the North Korean authorities are becoming frustrated with the expansion of South Korean information regarded as potential threat to the state.
*** Rimjin-gang
<<< BACK TO PART 1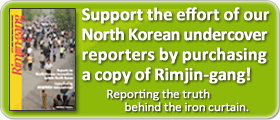 * Editor's notes on North Korean reporters
ALL REPORTS >>>
ARCHIVE(pdf) >>