2015/July/19
Written by LEE Jin-su, Editor; Rimjin-gang
The number of mobile phone users in North Korea recently surpassed the 2 million mark. This means that now some 10 percent of the country are using mobile technology to communicate.
Having said this, it is important to keep in mind that the North Korean mobile phone functions only inside the country. There is no international connection. Further, although foreign visitors to Pyongyang can buy a temporary SIM card that allows international calls, they cannot connect to the North Korean domestic cellular network.
North Koreans are mastering the phone not only for conversations, but also as a tool for exchanging texts and images. Unsurprisingly, children are the first to command these new technologies.
Our reporting partner, CHOI Kyoung-ok, lives in Ryanggang Province in the country's northern region. She sent us photos of a North Korean mobile phone accompanied by instructions on how to send a message using the device. Additionally we obtained screen-shots of a common template in use among middle school students. This message is an example of some of the purported "dangerous words" circulating by means of mobile technology in North Korea.
A commonly seen model of mobile phone in North Korea is the T65, nicknamed "tubby" due to its shape.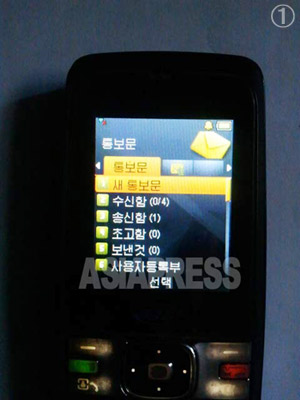 The MENU screen function: The top of the menu reads "notification document"
( 통보문 tongbo mun) indicating a text-message. The menu below reads:
1: Write notification document
2: In-box
3: Out-box
4: Draft-box
5: Sent
6: User list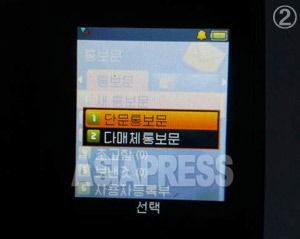 PHOTO2:
When choosing the "Write notification sentence" option, the next menu appears as follows:
1: Short notification document (= Short message- SMS)
2: Multi-media notification document (=MMS)
---------------------------
1 (SMS) is for a text-message.
2 (MMS) is a message with a photo, music or short movie.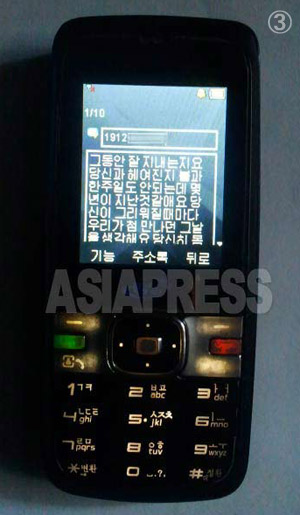 PHOTO3:
The upper line is to input the phone
number of the recipient of the message.
Below this is a space to write the message.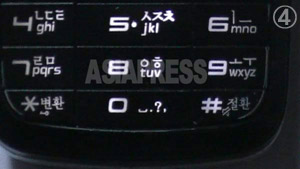 PHOTO4:
The characters on the keypad are
Korean vowels and consonants.
It differs from the South Korean
three-major key-layouts. It seems to be an
original layout developed for the North Korean phone.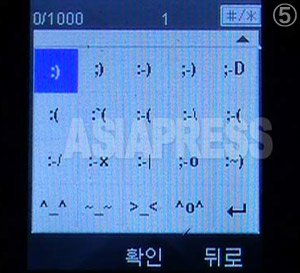 PHOTO5:
In addition to the normal text inputs, there are
extra symbols such as emoticons.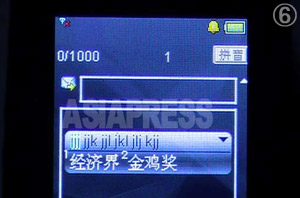 PHOTO6:
Further more, it allows for use of Chinese
characters. Pinyin alphabet input type is
available for use.
"Taboo" political expressions gaining popularity
Our reporting partner from Pyongyang provided us with some interesting mobile phone-movies and 'emotion' messages. These were passed on to us in the summer of 2013. These short movies vary in content from North Korean anime, combat sports, South Korean karaoke songs, and 'disco dancing', to various other emotion messages now in common use in North Korea. The birthday greeting below has become popular among students.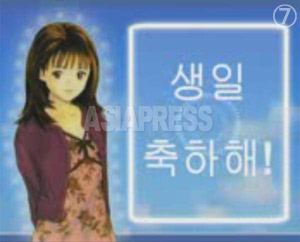 PHOTO7:
According to our reporting partner, who provided us with this multi-media, middle school and college students alike tend to send such messages, either by PC or mobile phone.
Chinese software and apps are usually used for producing these messages. The character in this birthday greeting is from a Japanese popular anime.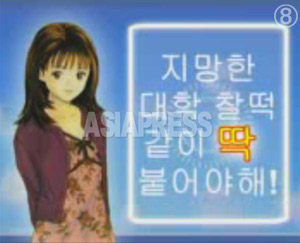 PHOTO8:
This emotion-message reads;
"Happy birthday, my Friend"
"There are many words I want to tell you"
"You are the only person"
"Like a star shining in the sky"
"Your eyes are always twinkling"
"You gotta pass the college entrance exam as a rice cake"
(NOTE: In North Korea, to pass an exam is expressed as "be sticked as a rice cake")
"Your future will be bright"
"I pray for you"
"I love you, my friend"
"From your best friend, 17 year old pure heart"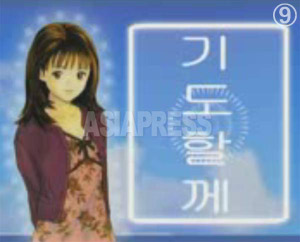 PHOTO9:
At first glance it might seem like a love message, but actually it is a message between two female middle school students. According to analysis by a North Korean defector who recently lived in Pyongyang, there is a sensitive phrase included in this message- "I pray for you" (기도할게 gido halge). "To pray has religious overtones. However, the existence of a God is not officially permitted by the North Korean state. As such, this phrase is considered as a "potential danger".
The defector explains as follows:
"To use the word 'pray' may cause a problem for the user in North Korea. It seems that this word is circulating among middle school students unaware of the sensitivity of the meaning of the word."
In South Korea, "I'll pray for you" (gido halge) is a word frequently used among people without necessarily drawing on religious beliefs.
As such, it is not too much to presume that North Korean students are also using this expression without a knowledge of its original meaning.
It is further interesting to note that despite attempts at total censorship by the authorities South Korean entertainment is clearly making an impact on the younger generation of North Koreans, appearing in trendy phrases such as "I'll pray for you".
The North Korean state continues to grapple with the growing use of mobile phones and is finding it difficult to control information among the people. The North Korean authorities have taken measures to ensure that all functions of the SD memory card and "phone to phone" data transferring (via infrared or Bluetooth) have been removed from phone devices sold after 2012.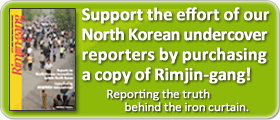 * Editor's notes on North Korean reporters
ALL REPORTS >>>
ARCHIVE(pdf) >>