2016/Oct/7
A bus terminal at Pyongsung City in South Pyongan Province, 2010. Parked buses are bound for all corners of the nation. Destinations such as 'Shinuiju' or 'haeju,' are attached to the windscreens of the buses for passengers to see. The people-moving business appears to be thriving. A saleswoman sells drinking water and a customer washes his body using purchased water.
◎ASIAPRESS rimjingang playlist>>
The video was recorded at a bus terminal in Sariwon City of North Hwanghae Province on September 2013. It shows a noticeable increase in buses and passengers. Dozens of buses bound for all parts of the country are parked side by side. The transient population of North Korea appears to be multiplying by the hundreds.
From 2000, because the nation's backward railway system failed to meet the increasing demand for transportation, the bus service business - importing used buses from Japan and China - began to take off. This was largely fuelled by financial investments made by wealthy officers within the People's Securities Department (the North Korean police force). As the people-moving industry started to grow the transportation network expanded across the country.
Related article: [Video Report] Foot of N.Korean, Japanese Used Bike
The signboard at the bus terminal reads 'Parking lot of passenger buses belonging to the People's Committee of North Hwanghae Province.' It implies that this government organization – the People's Committee - is heavily involved in the free market bus business.
Another signboard in the parking lot displays the costs of traveling. Various destinations and fares are listed that range from between 10,000 to 25,000 won. But the real fare is usually multiple times the quoted price. When we inquired the cost of the fare to a conductor in the front seat, she answered '7,000 won.' (1 USD= 8,000 won at the time)
There can be little doubt that the collapse of the North Korean railway system has given way to the long-distance, market economy bus network. At the same time, it seems that the authorities' control over people's ability to move may be gradually weakening.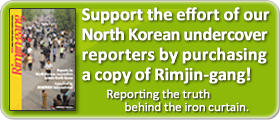 * Editor's notes on North Korean reporters
ARCHIVE(pdf) >>
DPRK MAP >>