◆ North Koreans no longer able to visit Mount Kumgang
When I ask my South Korean friends about their visits to Mount Kumgang, they provide almost identical answers.
"The views were remarkable. However, it was painful to look beyond the fences and see the people dressed in shabby clothes and living in poverty."
I too had planned to visit Mount Kumgang, despite concerns that I might be denied entry. I wanted to see the rural areas of North Korea as well as some of the most beautiful scenery the entire Korean Peninsula has to offer. However, I became hesitant after listening to the words of an acquaintance in North Korea.
He said, "We North Koreans cannot go to Mount Kumgang anymore. Now we can only see it in pictures."
With the arrival of South Korean tourists, North Koreans were banned from entering the Mount Kumgang Tourist Region. Many hotels, restaurants, and local farmers markets were set up at the site but nearly all the employees that were hired were Korean-Chinese, not North Korean. The only North Koreans who were allowed to talk with South Korean visitors were officials and tour guides. In fact, the North Korean government had designed the entire tourism project in a way that would not allow for any inter-Korean exchange.
One can argue that, rather than bringing about inter-Korean exchange, tourism to Mount Kumgang only resulted in North Koreans being deprived of their most beloved scenic destination, all for the economic benefit of the state.
For every tourist to visit Mount Kumgang, 40-80 USD was paid to North Korea, reaching a cumulative total over 50 million USD. The money could have been used to improve the lives of North Koreans living in poverty on the other side of the fences. However, as the money was at the free disposal of the Kim Jong-il regime, it was used primarily for regime maintenance or the development of missiles and nuclear weapons.
◆ No true North Korean participation in inter-Korean exchange?
In order to allow for tourism to resume at Mount Kumgang, economic sanctions imposed by the UN Security Council will have to be eased. Although the tourism sector is not subject to sanctions itself, the transfer of large amounts of funds to North Korea is prohibited. Therefore, for the project to be resumed responsibly, it is necessary to advance the denuclearization process first.
This year, dialogue between the two Koreas progressed in a swift and substantial manner. There were many notable achievements such as the restoration of military communications, the establishment of a Kaesong liaison office as a residence for officials from both countries, an environmental cooperation project to restore North Korea's devastated forests, and a cooperation agreement for disease control and healthcare.
But what does President Moon plan to do with the Mount Kumgang Tourism Project? According to the Pyongyang Joint Declaration, the two Koreas have agreed to "first normalize" the tourism project. However, if regular North Korean citizens are excluded once again, the project should not be considered a fruitful outcome of inter-Korean dialogue or a true exchange. As in the past, the project would be nothing more than a tourism contract, with admission fees benefiting the North Korean regime. I want to believe that President Moon Jae-in, with his experience in human rights, will not repeat such a mistake.
Most recently, on September 20th, President Moon joined Kim Jong-un to climb Mount Baekdu. President Moon was very happy to complete his lifelong dream of climbing the mountain from the Korean side and many South Koreans would have given much to enjoy the same experience. Kim Jong-un will know this and be eager for the opportunity to earn more admission fees off South Korean tourists. Consequently, I am worried that Mount Baekdu too will be taken away from the people of North Korea.
※ After the shooting
In August 2009, after tourism to Mount Kumgang was suspended, Hyundai Group Chairwoman Hyun Jeong-eun travelled to North Korea to meet with chairman of the National Defense Commission, Kim Jong-il, where they agreed to once again normalize tourism to Mount Kumgang. The Lee Myung-bak administration, however, refused to recognize Hyundai's agreement and stated that incident and future incident prevention methods could only be discussed between the two governments. Unwillingly to meet with the South Korean government, the Kim Jong-il regime refused any further cooperation.
On April 8, 2010, the infuriated North Korean government announced the confiscation of South Korean property, including the Reunion Center for separated families, and deported South Korean administrators. At the same time, North Korea launched an independent tourism project targeting Chinese tourists. However, with Moon Jae-in's visit to Pyongyang in September, the Kim Jong-un regime agreed to return the Reunion Center at Mount Kumgang back to the South Korean government.
※ During its colonial rule of the Korean Peninsula, Japan first developed the Mount Kumgang region into a tourist destination. Although the infrastructure is no longer in use, railroads and a ski resort were constructed. From the Taisho to the Showa period, dozens of tour brochures were published to introduce Mount Kumgang as one of Japan's most beautiful mountains. A historical note which, to this day, stands as clear testimony to the region's beauty. (ISHIMARU Jiro)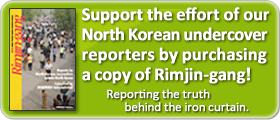 Editor's notes on North Korean reporters
ALL REPORTS >>>
ARCHIVE(pdf) >>
DPRK MAP >>