◆Humiliating flattery for China...What are Kim Jong-un's intentions?
After Kim Jong-un visited China on January 8, for a fourth summit with Chinese President Xi Jinping, Chinese state media published images of Kim Jong-un diligently taking notes, as if he were a student of the Chinese president. These images, considered a humiliation by the North Korean state, were all edited out of North Korean coverage of the summit.
Despite this apparent slight, the North Korean regime has shown a greater willingness to flatter China.
In an article posted on Rodong Sinmun's website on February 3, the state newspaper shared Lunar New Year 'greeting cards' sent by nations close to the North Korean regime.
The article first shared the greeting card sent by China, making pains to show great gratitude to all within the Chinese government. The article thanked the Chinese President, first and foremost, before individually listing the chairs of each Chinese Communist Party organization and all members of the National People's Congress. According to South Korea's Yonhap News, Russia's annual greeting card was previously received in such a manner and had been introduced first for each of the last 4 years.
On January 31, the Korean Central News Agency announced that, "The North Korean art troupe's performance in Beijing was attended by President Xi Jinping and senior Chinese officials." A couple days after the performance, however, Chosun Central Television reported that ahead of the troupe's visit to China, Kim Jong-un had invited China's ambassador in Pyongyang to an early rehearsal of the performance in order to review its contents. Seeking prior approval of the performance from the Chinese ambassador indicates the lengths to which the regime will go to flatter China's leadership.
So what is the motivation behind the regime's open embrace of China? On the one hand, North Korea is very keen to demonstrate to the international community, ahead of the upcoming summit meeting in end of February with President Trump, that China is "on their side".
However, there is another, internal, motivation behind the shift. As North Korea's economy succumbs to the weight of international sanctions, discontent is rising amongst not only the general public but also the wealthy and powerful of Pyongyang. By improving relations with China, the country responsible for 90 percent of its trade, the regime hopes to create an expectation among the general populace that sanctions will soon be eased.
Reversing its anti-Chinese rhetoric and previous directives as a first step, the North Korean government hopes to use flattery as a way of improving bilateral relations, boosting the economy, and signalling to the world that China will be standing behind North Korea on the international stage.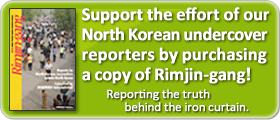 Editor's notes on North Korean reporters
ALL REPORTS >>>
ARCHIVE(pdf) >>
DPRK MAP >>